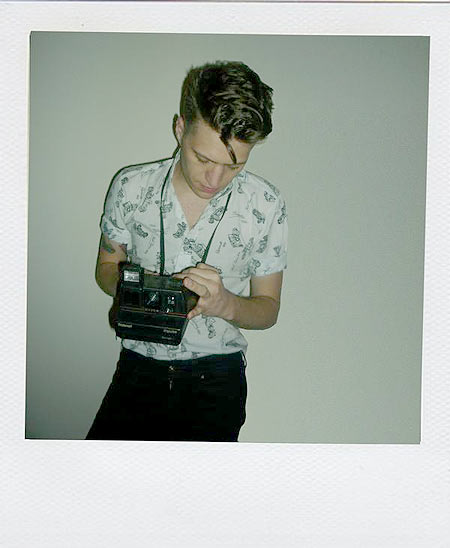 No wait, come back — we know a Polaroid photo of a bequiffed warbler actually holding a Polaroid camera might set off the HIGH ALERT siren on your Hoxtometer and it is, admit­tedly, a con­cep­tual nightmare which conjures images of a spooksome neth­er­world in which MC Esher is an actual MC fronting a post-Dalston Calypsocore funk outfit, but Jett Valentine is just about on the right side of pop enough to hold your attention.
We did one of his songs, 'Seahorses', as a Song Of The Day last week — did you hear it? It sounds like this.
[audio:seahorses.mp3]
(Quite good.)
He's been working with producers including Fraser T Smith (whose credits, as you know, include Tinchy Stryder and Taio Cruz), Andy Chatterley (Kylie, Nerina Pallot) and Blair MacKichan (Will Young, The Tweenies).
This is another song, 'Outlaws', which it looks like it's alright for you to download if you wish. This is it.
There's more on his MySpace — 'Look To The Sky' is another v good one. As is sometimes customary with 'pop hopefuls' we asked Jett so-called Valentine to explain, in no uncertain terms, what it is that makes him amazing.
Here is what he sent us.
FIVE REASONS JETT VALENTINE IS AMAZING BY JETT VALENTINE
1. Jett Valentine is half 'me' (Si) and half a musical superhero that lives within.
2. I write about the real world impacting hard with fantasy. It's a 50/50 thing. For the masses and not just the land of Hoxtonia.
3. I love Beyonce, Elvis Costello, Daft Punk, Karftwerk and David Bowie.
4. Jett Valentine has a col­lec­tion of vintage sports cars that he drives regularly to south of France.
5. Jett Valentine is also searching for the young soul rebels.
And there, readers, you have it.
Further reading
»
Jett Valentine on Twitter
» Jett Valentine on MySpace