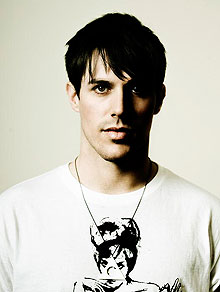 The pop singer Sam Sparro is a 'busy chap'.
He's just recently finished his album but in the last week or so he's also found time to invent a weird cosmic sort of 'mash-up' (ooh — it's 2002 again) thing.
It's called 'Back To Black & Gold' and it features his own Proper Hit Single 'Black & Gold' with a bit of Amy Winehouse's 'Back To Black' chucked in.
'Back To Black'. 'Black & Gold'. 'Back To Black & Gold'. We think you can probably see what he's done there.
Apparently you will be able to listen to the whole thing on his MySpace page at some point in the near future but for the time being you can have a little listen to it below.
[audio:backtoblackandgold.mp3]
Very good.