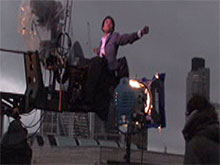 Ever wondered what happens behind the scenes at a David Jordan video shoot?
Us neither, but thanks to the miracle of modern tech­no­logy (ie someone at his record label has sent us a link to a bit of video) the entire world can discover what really occurs.
Click here to have your mind boggled in a visual manner.

Highlights:
» Luc the Director revealing that "we are just hoping it's not going to rain too bad."
» David looking JUST A LITTLE BIT like Michael Jackson.
» David explain­ing how he was swung into the air on "a sort of like big um crane sort of thing, not like a real crane but big enough".
» The slightly uncom­fort­able — but all too common — sight of a load of hired-in session musician 'band members' having just as much charisma as the star they've been drafted in to support.
» Some other bits.
Amazing.