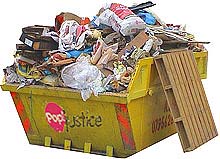 What's occurring?
» Jay Z will probably play Wireless this summer although appar­ently he's still doing Glastonbury. Very odd. (NME)
» Confirmed: Coldplay are the musical equi­val­ent of Valium. (Gigwise)
» Madonna plans to continue her orphan-based trolley grab, this time on a different continent. (The Sun)
» Meanwhile, some people have listened to her new album. (The Times)
» Mark Ronson has decided to take his trumpets to Oxfordshire to play a festival for wake­boarders (no idea) alongside Metronomy (AMAZING) and Funeral For A Friend (BOO). (Music News)
» Britney Spears' children might soon be allowed to spend another fun night with mummy. (Music News)
» Lily Allen cannot read. (The Guardian)
Blimey.