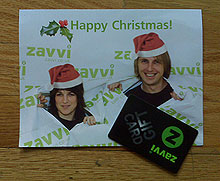 Amazing — after our invest­ig­a­tion of the Virgin Megastores / zavvi 'rebrand', we have received a Christmas card from zavvi.
Before you start to worry, please do not be fooled or dismayed by the pun-free front — the inside of the card does indeed wish recip­i­ents "a great Christmas [capital C for that] and a zavvi [lower case thank you very much] new year".
There is also a hand­writ­ten message: "Hopefully we can convince you there are much worse presents than a zavvi [lower case] gift card!"
Considering they've loaded the enclosed gift card with REALLY QUITE A LOT OF MONEY we suddenly feel that we maybe have been harsh to judge zavvi's dis­astrous rebrand and will be invest­ig­at­ing soon with the aid of our free cash.
OTHER SHOPS WE THINK ARE RUBBISH

Woolworths
Selfridges
All car showrooms
Estate agents
Etc