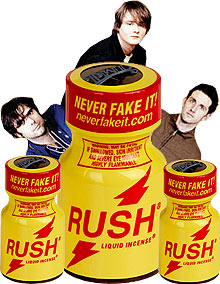 If you are a fan of free MP3 offers you have TWO DAYS LEFT to download Keane per­form­ing Gwen Stefani's version of Keane's (or something) 'Early Winter'.
It was recorded a few weeks ago at the Whileyfest 2007 event at London's Union Chapel (ooh — 'a unique gigular envir­on­ment' etc etc) and has different lyrics in it to the Gwen version. You know about this already because we mentioned it the day after it happened, but if a point it barely worth making once it's barely worth making twice.
The free download is on Keane's website at www.keanemusic.com and you don't even have to go through the bother of entering a made up email address to get at it. Click the link, open in iTunes, job done.
Amazing.
(NB: The only Keane picture we seem to have to hand features the band emerging from behind three bottles of amyl nitrite. Please do not 'do poppers' while listening to the 'Early Winter' MP3 or it will ruin the beautiful 'n' nice meaning of the song.) (Whatever the actual meaning of the song is.)