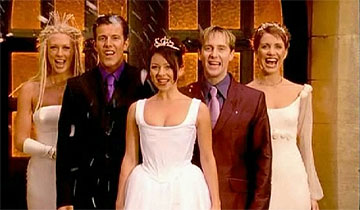 Today marks six years since Steps split up. Pop was a different place in those days, but pop works best when it cel­eb­rates the now and the now back then involved things like 'One For Sorrow', 'Summer Of Love', 'It's The Way You Make Me Feel' and 'After The Love Has Gone', the best of which still sound great today due to The Magic Of Pop Music.
It was not all great, though. It's still difficult to look at a clip like this…
httpv://www.youtube.com/watch?v=CZv-LssrMoo

…and not see two things.
1. A load of old shit.
2. Five children's enter­tain­ers who don't actually get on as well as they pretend to, going through the motions with an attitude to their audience so pat­ron­ising that it borders on contempt.
It's all a bit…
httpv://www.youtube.com/watch?v=8xO0Z-wjBVk

…isn't it?
Still, for anybody still mourning the band's passing and clinging onto the idea that 'shiny colourful pop will come back' because 'it all goes in cycles' there is some glimmer of hope in the shape of these two.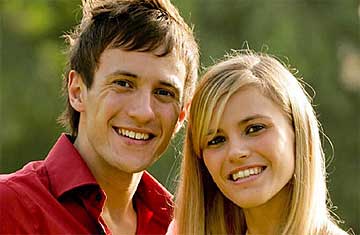 H & Claire without the issues, basically.
Same Difference have now been signed to Syco for one single. As one poster on the Popjustice forums points out there's a sig­ni­fic­ant chance that they'll end up knocking out some old shit like a cover of 'It Takes Two' — although it's been well over a year since 'Breaking Free' was in the Top 10 — but it's also worth remem­ber­ing that Tim Byrne, the man who invented Steps and saw them through to inter­na­tional multi-platinum success (based on an initial one single deal) with a keen sense of what makes pop pop, is now one of Syco's bigwigs.
There are few sights more depress­ing than dead-eyed, lifeless pop washouts present­ing work­man­like, hackneyed pop songs as 'fun', and in many cases that's what this par­tic­u­lar strain of pop has become. But where Steps were very much five actors and actresses playing roles with very little passion for the music they were releasing, there's no doubt that the smiles splashed across Sarah and Sean's faces are very real indeed.
Watch this space…