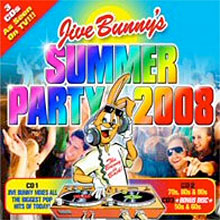 Sometimes it is hard to believe the events unfolding in front of your eyes. Sometimes it is easier, and less harrowing, to assume that you are simply dreaming. Times like, say, when you're sitting down for a pleasant evening in front of the tele­vi­sion and are greeted with an advert­ise­ment screaming "JIVE BUNNY IS BACK!!!!".
Well, we put in a call to EMI yesterday and it turns out that we were not dreaming and like Stephen King's 'It' with a set of Argos record decks Jive Bunny, this demonic character who ter­ror­ised children in the 1980s, is indeed back to haunt those children now they are adults.
We have called in the triple (!) CD of Jive Bunny's new mas­ter­piece 'Summer Party 2008' for review purposes. It has 'As Seen On TV!!!' on it. Amazing.
CD1: 'HERE & NOW'
This is a medley of various hits from the last four years including 'Hey Ya!', 'Smile', 'Sweet Dreams My LA Ex', and 'Ruby'. The CD sleeve claims these are 'ALL MIXED TO PERFECTION'.
[audio:jivebunny.mp3]
Hm…
CD2: '70s, 80s, 90s'
This CD is split into three decades. The 90s track is a par­tic­u­lar treat, opening with the holy trinity of 'Macarena', 'Tubthumping', and 'Mona'. Once again The Beekeepers' impact on 90s rock is tra­gic­ally over­looked, although there is room for Sham Rock's 'Tell Me Ma' (??!!!) and the mighty 'Mambo #5'. We wish someone would record some sort of post-mil­len­nial rework of 'Mambo #5'.
CD3: 'THE CLASSICS'
These are the songs that made Jive Bunny famous in the 80s: 'Swing The Mood', 'That's What I Like', 'That Sounds Good To Me'. Incredibly these are re-recorded versions of medleys based on re-recorded versions of songs which, even back in Jive Bunny's heydey*, were thirty years old. The result, here, is like an extreme musical version of Chinese whispers. Imagine that in 1989 someone on the other side of the world whispered the phrase "great songs by great artists" to a close friend and that today, with the message having been whispered all across the planet for two decades, someone leans over to you, cups their mouth and whispers in your ear: "Jesus Christ my ears my ears oh God this is the worst thing I have ever heard, take it off please take it off I'll tell you anything no please make it stop". That is a bit what this CD is like.
So there you have it. Your defin­it­ive guide to the return of Jive Bunny. When we said we wanted megamixes and medleys back in the charts it wasn't exactly what we had in mind but you can't have everything.
* Or 'HAYDAY'!! Because it's a rabbit.