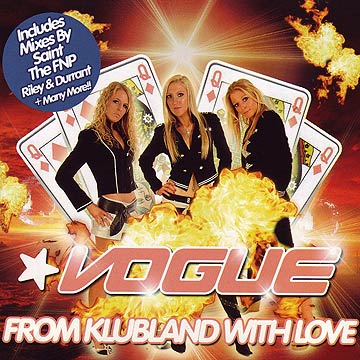 What you see above is a picture of the exact moment that a promising new girlgroup were engulfed in flames as four extra­ter­restrial playing cards conquered the planet, reducing the landscape to a hellish fiery nothingness.
Facts about Vogue:
1. Their album, 'From Klubland With Love', is basically Atomic Kitten for the Cascada generation.
2. It's got some good songs on it (we like 'Victim Of Pleasure' and 'Dreaming').
3. It's also got some cover versions on it — Sophie B Hawkins' 'Right Beside You' gets a bit of a mauling but Wilson Philips' 'Hold On' works fairly well as a raved-up, leave-your-cred-hangups-at-the-door 'number'.
4. There seems to be no explan­a­tion for diamond playing cards being on the album sleeve. Surely these ladies are the queens of, ahem, 'klubs'?

5. According to the press release we have received, "Vogue will be per­form­ing live on BBC TV's 'Children In Need' this year to help raise some cash as they sing their new single 'All About The Money'". (Yes it's the Meja song.) "The girls are hoping that the title of the new song will inspire coun­try­wide generosity."
6. Vogue are two sisters and their friend.
7. So far they have appeared on the X Factor tour, the BCM UK tour, a Ministry Of Sound album and are confirmed for 'Race For Life'. (?) There are confirmed gay gigs including one at The Nightingale.
8. "Their brilliant stage show has earned them a legion of fans, and caused them a 1 and a half hour signing session in Hull last month."
9. Despite not being exactly what you might term 'actually very good', they are certainly not as bad as they look.
10. There is also a claim on the press release that "they appeal to everyone from 16 to 40". What do you reckon?
The girls' MySpace is here. It includes a funny pho­to­graph of the band on a tractor (?!!) as well as this picture.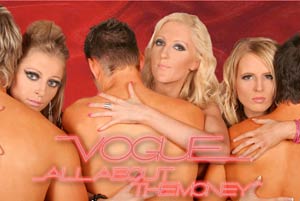 Wow.