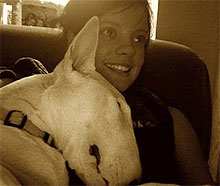 What do you do when you've become famous singing songs about being normal? Well, Ye Olde Book Of Popstardome says that as the second album rolls around you sing songs about this new thing called being famous.
Last night Lily Allen posted two new songs on her MySpace — 'I Could Say' is, sonically, a bit of a 'She's Madonna' moment, but at its heart it's a bril­liantly innocent and confused love song. 'I Don't Know', meanwhile, is The Song About Fame. There are some fantastic lines — "I'll take my clothes off and it will be shameless cos everyone knows that's how you get famous", "I am a weapon of massive con­sump­tion, it isn't all my fault it's how I'm pro­grammed to function", "I'm not a saint but I'm not a sinner, and everything's cool as long as I'm getting thinner". It sems to be a song about other famous people but also a song about how, once you become famous, you're just another famous person. It's pretty special.
We hope Lily's doing a Magnetic Fields and recording an entire album full of songs beginning with 'I'. It would be a bril­liantly post­mod­ernzzzz comment on The Media, warped inter­pret­a­tions of celebrity lifystyles and perceived self-obsession ET BLOODY CETERA. Either way, the two new tracks are good enough to divert attention from the fact that since her second single it's been easy to forget that Lily's day job is being Quite A Good Popstar. It feels good to have the popstar back.