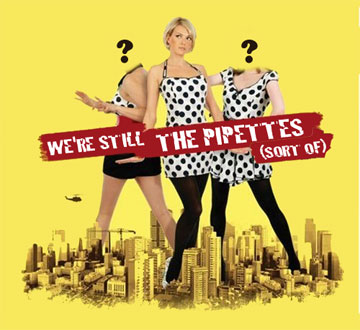 Press state­ments are always amazing. They're even more amazing when they detail ALMOST TOTAL LINEUP CHANGES and make jokes about the Sugababes. Here's one from The Pipettes.
"The Pipettes have two new members, Ani and Anna.
We are demoing up 20–25 new songs, with an eye to recording a second album in the Summer. We want to tell you all about them, but we're very much head-down working on new material at the moment.
This means that RiotBecki and Rosay have left to pursue other musical pursuits (which will be brilliant when they emerge), we wish them all the best, we're all still great friends and news on their pursuits will be closely supported by us.
People may be confused by such a drastic change in line-up but please rest assured — if we were to be an imitation of ourselves we would stop. Plus the Pipettes has more members come and go than major labels have A&R men, it's just another day in the office for us (plus we've got to go one better than the Sugababes).
We refer you to the manifesto on our website (www.thepipettes.com) for a more in depth explan­a­tion on the func­tion­ing of the band; this was the natural step to take. For a more in depth series of answers, we direct you to the prepared video here: http://www.youtube.com/watch?v=eBGIQ7ZuuiU.
Thanks for all the continued support over this period and we're incred­ibly excited to be working toward bringing you a new album that will be unlike anything we (or anyone else) have ever done. We will also have limited edition novelty tee-shirts on sale soon, keep an eye out for them and join the growing thousands who can now claim to be 'ex-Pipettes.'
Love
The Pipettes"
So there you are: amazing. Points knocked off for the YouTube link but amazing nonetheless.