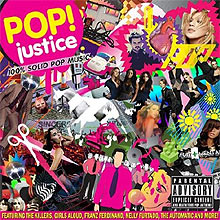 So, the Popjustice album, '100% Solid Pop Music', is out today.
The idea is that it contains 22 reasons why pop music is, right now, really brilliant and exciting. Hopefully it is not only an album which pop fans will really like, but also one which will make pop haters realise that there is more to pop music than X Factor.
It includes some songs you have heard and some songs you haven't heard. Among the songs you probably won't have heard:
1.
A new version of
Pet Shop Boys
' It's A Sin', in an 'electro style'.
2. The original demo of Girls Aloud's 'Love Machine', which features com­pletely different lyrics and is therefore a bit weird.
3. A new track by Client - 'Lights Go Out' — which is VERY POP and probably the best thing they've done.
4. The first new Sophie Ellis-Bextor material in ages — a track called 'Dear Jimmy' which is appar­ently inspired "by all the great Jimmys of yes­teryear — Saville, Tarbuck, Greaves…'.
Among the songs you have heard are tracks from Nelly Furtado, Franz Ferdinand, Ladytron, Kelly Clarkson, The Killers and Sugababes. The album also comes with two altern­at­ive covers and sleevenotes by Jon Savage.
We don't know which shops it's in (although we can confirm 'Virgin and HMV but not Woolworths')… Your best bet might be to buy it online direct from Amazon
for a tenner.
You don't have to buy it, obviously. It is basically up to you.