The Script are the most punk band on the planet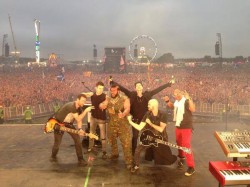 "I want to get in there with you!" a bleary-eyed singer from The Script pro­claimed, jumping from the stage and DIVING HEAD FIRST into the crowd, laughing like a lunatic as his shirt was ripped to pieces by the piranhas at the barrier. Then they brought Mr T onstage with them. Yes, guys! MR T IN THE PARK. And do you know what The Script's guitarist (HE'S CALLED MARK) thinks of T in the Park's crowd control set-up? "I'd like to slap whoever made this in the face." That's what he thinks.
Perrie Edwards is pretty much dressing up like that Zayn tattoo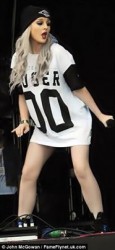 So I guess she's cool with it.
BRANDON FLOWERS KNOWS WHO GIRLS ALOUD ARE.
I'm always inter­ested in finding fresh ways to admire The Most Handsome Man In Music (SORRY ADAM LEVINE). Imagine my ABSOLUTE JOY when he wrapped his Vegas accent around my two favourite words — Girls and Aloud — before per­form­ing a rousing rendition of 'I Think We're Alone Now'. (Smart move not doing one of their own tracks. Too soon.)
Rita Ora has some blue bits in her hair now
YES, DIP DYE IS STILL HAPPENING. She still looks great, obviously. She also did a mock encore which is bold if you're not a headliner and the song you just played is 'How We Do'. The people who didn't acci­dent­ally leave enjoyed 'RIP' as well. Bonus!
Popstars actually do mingle with civilians
Haim hurried away from their own set to catch the end of Kendrick Lamar and cel­eb­rated by dance battling total strangers nearby them while Bastille arrived a day early so that Dan could showcase some bold hip hop dance moves in the crowd at Snoop Dogg, even­tu­ally borrowing a hat from Bastille's keyboard (HE'S CALLED KYLE) so that he could move more stealth­ily. In other news Jesy from Little Mix was ushered out of a side door behind some urinals because her presence in the main arena, wearing her stage outfit & make-up, was gathering too much attention. URINALS. Those people all had wrist­bands which would have got them inches closer to Rihanna and real toilets. Yet they chose to walk among us. RESPECT ALL ROUND.