There's a pattern to 21st century Pet Shop Boys releases that runs like so:
Album is widely praised as a 'return to form'.
Album sells a little bit less well than the one that preceded it.
Album is com­pletely forgotten by all and sundry within about two weeks of release.
Time passes. Neil writes a ballet, Chris buys a hat.
New album is announced.
Cycle repeats.
Not only is this probably quite frus­trat­ing, it can also make it difficult for the casual observer to detect whether the latest album really is a 'return to form' or just an excuse for journo types to wax nostalgic about how amazing the band were in the 80s and 90s.
For the benefit of these readers, let me break it down for you: 'Electric' is the best Pet Shop Boys album since 'Very', which everybody knows is the best Pet Shop Boys album ever.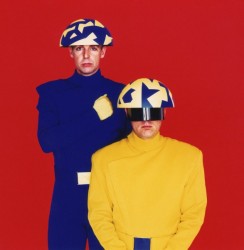 Here's why:
It's one massive Stuart Price-produced disco wigout.
Because of the Price con­nec­tion many people have compared 'Electric' to Madonna's 'Confessions On A Dancefloor', but it's actually closer to Pet Shop Boys' own extremely brilliant 'Introspective'; an all-floor­filler, no-filler col­lec­tion of feature-length tunes.
Classic Pet Shop Boys moments abound
Let's face it, only one other recording artist would record a song called 'Love Is A Bourgeois Construct' in 2013, and that artist is Johnny Borrell. But would the (the­or­et­ical) Borrell version be a titanic 'Go West'-esque kiss-off with a hook borrowed from a 17th century opera but appar­ently played on a Bontempi organ? Pop 1–0 Indie.
They're having fun again
Last year's 'Elysium' wasn't as bad as all that, but a few too many songs about old age, death and the vapidity of modern pop stars made it a bit of a world-weary slog. Not to mention that one about the Olympics. 'Electric', by com­par­ison, is almost entirely devoted to songs about clubbing. I don't even like clubbing, but the lack of bit­ter­ness and complete absence of ballads leads to the most carefree PSB listen for years. Welcome back to the party boys.
Neil sounds like a robotic disco deity.
Singing about clubbing when you're 'getting on a bit' can be risky territory. Get it wrong and you're basically post-2005 Madonna — wild-eyed, legs akimbo, des­per­a­tion for relevance dripping from every pore. Thankfully at no point on this album does Neil sound like he's going to lurch up to you at the bar and start giving it a bit of Big Fish Little Fish Cardboard Box. Detached, effort­less and imperious, his vocals demon­strate his hipness, rather than insisting on it.
'

Thursday' could be an actual hit
Whether it'll actually become one is debatable, but with a classic house piano, a walloping chorus, the best Chris Lowe chant since 'Paninaro' and a shock­ingly non-horrid cameo from Example, it's both classic Pet Shop Boys and — thanks to the ongoing revival of the 90s dance sound that they helped pioneer the first time round — con­vin­cingly 2013.
So there you have it. Post-'Very' albums 'Bilingual', 'Nightlife', 'Release', 'Fundamental', 'Yes' and 'Elysium' all had some incred­ible moments, but were all weighed down by the inclusion of some right old toot. At a brisk nine tracks long, 'Electric' is 100% toot-free; therefore it is their best album in 20 years.
Not hyperbole, just simple logic. Purchase with confidence.