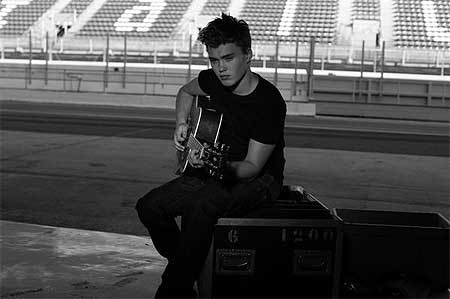 Alex Gardner's been a one to watch* since the start of last year and while a black and white photo of a man playing an acoustic guitar might not exactly set your pop pulse racing WAIT A MINUTE because his music sounds like THIS…
[audio:gardnermad.mp3]
…(which is today's Song Of The Day) AND THIS:
[audio:gardnerheartbreak.mp3]
…(which might be a Song Of The Day at some point in the future) and is the con­sequence of this Edinburgh-raised teenager working with the green-fingered Xenomania team on a series of tracks that veer from the elec­tronic to the acoustic but never too far away from Alex's seduct­ively melodic 'brand values'.
Over the four or five times we've seen him on stage he's developed (you could say things have gone 'uphill') into
a very promising live performer with a strange stage presence that's at
once con­fid­ently relaxed and fan­at­ic­ally precise. The acoustic stuff isn't quite as much to our tastes to be honest but that's 'instru­ments that don't plug in' for you and even then there's a nice one called 'There Goes My Heart' which we are sure you will hear in due course.
There's more music and a bril­liantly overblown biog ("the pop-writing craft of George Michael [and] the looks of a young Elvis") on his MySpace, and here is what might reappear in December in a shortlist of 2010's most boring Twitter pages. Finally, moving pictures and a free download on his official site.
* Please feel free to come round and kill us dead if you see that phrase on Popjustice again. See also 'on the up', 'taste­m­aker tip', 'destined for greatness' etc etc etc.