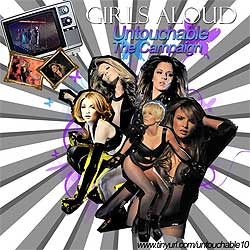 And so it continues.
First up today we have 'Untouchable Top 10', a campaign with the modest aim of getting Girls Aloud's 'Untouchable' to at least Number 10 in the hit parade. As you may know, 'Untouchable' was the single that broke Girls Aloud's run of con­sec­ut­ive Top 10 hits, so getting it into the Top 10 now would extend that all-important run of Top 10s to 21.
Nadine Coyle has acknow­ledged the campaign, but the support doesn't stop there. From the campaign's Facebook page: "Girls Aloud's record label Fascination & a whole host of celebs including Jonathan Ross, Girls Can't Catch, Liz McClarnon, Sinitta and Lisa Maffia have all shown their support for the campaign on Twitter".
Amazing.
Sadly the logic behind this is rooted in bollocks: fans use the band's unbroken run of twenty Top 10 singles as proof of the high quality of Girls Aloud's output, but by using this campaign to effect­ively hype the chart those same fans are proving (or admitting) that a Top 10 hit doesn't actually have anything to do with a song's quality. Basically, by extending the band's run of con­sec­ut­ive Top 10 hits to 21, fans are making the achieve­ments of those first twenty singles irrelevant.
The campaign's Facebook group mem­ber­ship is currently just over 4000 and the 'download week' for 'Untouchable' is at the end of this month. Could they pull it off?
There's also this.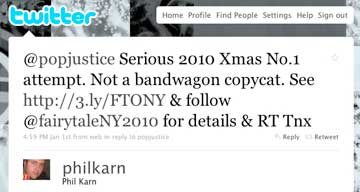 There's more info on this campaign — to get The Pogues & Kirsty MacColl's 'Fairytale Of New York' to Number One this coming Christmas — at this bit of the internet. It feels like it should have been a Christmas Number One, but it wasn't. Something else was. That last Mini Viva single felt like it should have been a Top 5 single but it wasn't. It didn't even get in the Top 40. Does it deserve its own campaign? What about every other song that 'should' (according to people who self evidently aren't the record buying public) have sold more than it did? Getting 'Fairytale Of New York' to Number One in 2010 won't change history, it'll just add a bit more history.
The more that similar campaigns pop up, the less people are able to cheesily bleat on about them getting people 'inter­ested in music' or 'inter­ested in the charts'. As was clear from the outset with that Rage Against The Machine drive last year, all these campaigns do is
reduce music purchases to emo­tion­ally dis­con­nec­ted votes for 'ideas'
("it's not pop!" "it's not indie!" "it should be a hit!") while the
charts them­selves become a worthless, easily-hyped gauge of not very much.
As for 2010's Christmas Number One — the big one — campaigns like the 'Fairytale Of New York' one will pop up during the year, and they will all suffer from the logic fault at the heart of the 'Untouchable' campaign: a Christmas
Number One is desired because it means something, but this is all rendering it mean­ing­less, or at least changing its meaning to something else. Perhaps 2008's was the last of a certain type of Christmas Number One, and 2009's was the first of a new breed.