Another major awards ceremony, another Tumblr laughing at people who haven't heard of the more leftfield nominees and winners. It started with Arcade Fire and this time it's Bon Iver prompting 'LOLs'.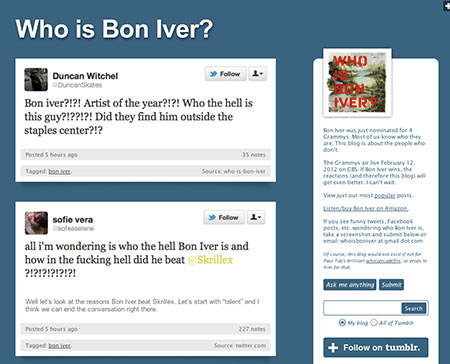 Now there is a point to be made about online culture's snow­balling "WHO EVEN CARES?!?!?!" mentality, but of course that's not the point being made by Tumblrs like this. This is just about laughing at people for not liking altern­at­ive music.
The thing is, do people — even people immersed in the Pitchfork lifestyle — expect Skrillex or Justin Bieber fans to a) know or b) give a fuck about Bon Iver? Even when Bon Iver albums are selling pretty well to less alt-obsessed audiences, do the people respons­ible for this sort of Tumblr really think that beyond a miniscule crossover point Bon Iver albums are selling to a pop crowd, or a dance crowd?
It is a bit like all those hys­ter­ical rants that popped up when Jessie J said she didn't know who PJ Harvey was. Really, why should she? What is there about Jessie J or her music or her life or her back­ground or anything that makes it accept­able to laugh and point because a 23-year-old pop singer isn't clued up on someone whose last Top 20 hit was never? Surely it can't be a case of 'hey they're both women so they're the same thing'? This isn't like some new punk act not having heard of New York Dolls. It's not Pixie Lott saying she hasn't heard of Britney Spears. Not everyone spends their entire life reading broad­sheets and wanking over 6Music.
Would it make people happier if your average Belieber also loved Bon Iver? What if Justin Bieber's entire fanbase went, right, actually do you know what Justin Vernon is not just some old twat in a garden shed, we think his music is brilliant and we're all massive fans? Well we're not saying all Bon Iver fans would react like this — some of our best friends are Bon Iver fans — but we've spent enough time around idiots like the let's‑make-a-Tumblr brigade to know that their response would be something along the lines of 'you don't really under­stand', 'you like Bon Iver for the wrong reasons', 'you're just saying that to sound credible' and so on.
What these people need to remember is that the only reason they've heard of Justin Bieber or Britney Spears or Rihanna or anyone else whose fans are 'hilarious and ignorant' is that all those artists are platinum-selling super­stars. Have they heard of Yasmin? What's their opinion of the last Saturdays album? Where did it all go wrong for Parade, and can the girlband still turn it around? People do not have an opinion on these points because they do not know about them. They are ignorant about pop music unless it's handed to them on a plate. Let's make a Tumblr about them!!!!!!!! (Let's not.)