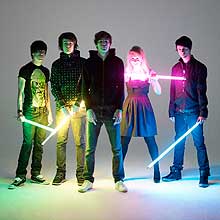 It's a year and a half since we first wrote about Hadouken! on Popjustice but they've FINALLY got around to spunking a ridicu­lous amount of money on a pop video.
The video's for 'Declaration Of War', one of a few tracks on the band's new album which take Hadouken!'s core values — blazing elec­trogrime with a load of brilliant shouting over the top — and throw tunes and sort-of-singing into the mix. This will come as little solace to members of the Popjustice community fever­ishly checking the internet every morning for news of a Vengaboys comeback but 'Declaration Of War' is one of the points on the album where you really get a sense of Hadouken! taking con­vin­cing steps towards becoming the defin­it­ive 21st century pop group without sac­ri­fi­cing any of their character or cred­ib­il­ity or other things 'artists' bang on about morning noon and night.
[audio:hadoukendeclaration.mp3]
The video's premier­ing around the country this weekend — the band are beaming it onto landmarks with a big torch — then online next week, but you can have a look at some pictures from the video right now on Popjustice as a special Friday treat.
First off — a spooksome 'n' apo­ca­lyptic vision of a future world where teenagers are oppressed or something.

This is another spooksome 'n' apo­ca­lyptic vision but with some fire in it.

Here are some young people (ie Hadouken!) running away from something.

They are running from evil enforcers of some sort, by the look of things. Maybe it's just Daft Punk going for a jog.

As you can probably deduce from the pictures so far what we are dealing with here is a ter­ri­fy­ing total­it­arian state when people who are amazing are kept down by The State. DOWN WITH IDENTITY CARDS AND THAT SORT OF THING!!! People oppressed by Evil Enforcers include James from Hadouken, pictured here in a cage.

Maybe this is like the tATu video and there's another bit in the video where he snogs a boy in a school uniform, but that would be a ridicu­lous thing to put in a video because NOBODY WOULD WANT TO SEE THAT.
Here's Hadouken! in their video.

They are the rebels in this total­it­arian state. They are the survivors. Warriors. Fighters. They may be your only hope ETBLOODYCETERA.
There you go.
If you don't have any plans this weekend and want to go and stand in the freezing fucking cold and watch a pop video, here's where you'll need to be.
Friday London St Martin in The Fields Church, 6.30pm
Saturday Leeds The Cockpit. Swinegate, 8pm.
Sunday Manchester MEN arena, 6.30pm.
Monday Glasgow ABC2 Sauchiehall Street, 6.30pm.
'Fin'.