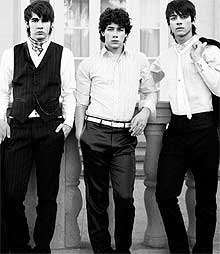 The Jonas Brothers' 'UK invasion' starts properly next week with a small live show at London's Islington Academy.
We've got three pairs of tickets to give away for the show.
One of the pairs is going to a chap called Jamie who emailed us about the band a few weeks ago asking if we'd be able to get him tickets if they played in London.
To win one of the other pairs of tickets, either:
1. Email us and tell us why you really really want to see The Jonas Brothers.
Or
2. Email us and tell us why you're not really that fussed about The Jonas Brothers but are willing to go along, see what's what and make your mind up once you've seen the concert.
Send your entries to this address…

…by midday on Monday.