Right so Tatu are back (again) and they've got a bit of a con­tro­ver­sial video (again) and the lead single from the album sounds good (again).
The single's called 'White Robe'. We wouldn't usually say this sort of thing but the video may well be one of those 'some viewers may find imagery unset­tling and not just in a two-girls-kissing or bloke-getting-his-head-shot-off sort of way' moments.
httpv://www.youtube.com/watch?v=iD7WcSnR8VU

For those of you without YouTube access, what other Popjustice readers have just seen is a heavily pregnant Julia from Tatu being led — by two female prison guards — to a post in the middle of a huge room. She is stripped to her underwear then hand­cuffed to the post with her hands above her head. Lena from Tatu then instructs a five-strong, all-male firing squad to shoot Julia dead.
What on earth will they put in the video for the first single off their next album?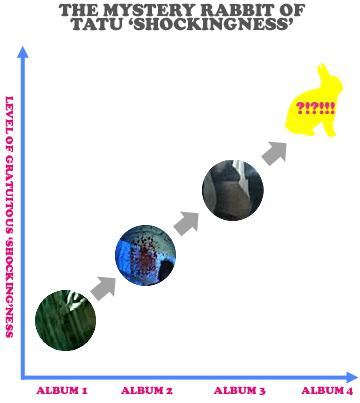 For the time being, let's just imagine it to be a BIG YELLOW RABBIT.