Somewhat pre­dict­ably, the Popjustice mug race has already got slightly out of hand. After yesterday's story explain­ing that the people behind 'Jackie — The Album' had sent us more mugs than the people behind the The Housemartins' greatest hits, a further THREE 'Jackie — The Album' mugs have arrived.
Here's how things currently look: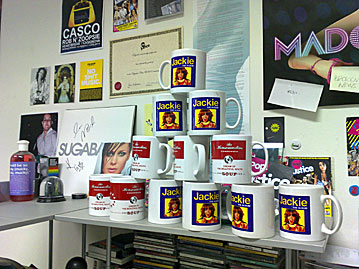 'Jackie — The Album' have now taken the lead, with seven mugs to The Housemartins' five.
The Housemartins aren't going to just sit there any put up with that, surely…?