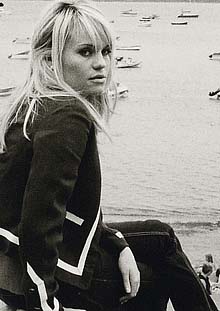 Let's have a look.
Number One: Perhaps Duffy should have been given a special made up Brit too.

Number 5: Kylie being allowed to sing her new single at the Brits means that 'Wow' is finally in the Top 10, also providing a nice tele­visual bookend to a single campaign which began with a per­form­ance of the same song on 'X‑Factor' over two months ago.

Number 13: A lot of people have ignored the fact that Mark Ronson has a new single out and are instead buying his old single again, largely because Amy Winehouse is on 'Valerie'.

Number 23: Another outing in the Top 40 for Luciana, this time given a helping hand by Taio Cruz on his 'Come On Girl' single.

Number 31: Since Mark Ronson did not sing 'Just' at least week's Brits a lot of people have neglected to buy it. His album is back in the Top Five, however.

Number 49: A modestly impress­ive beginning to the chart career of Girls Aloud's 'Can't Speak French' single.

The Feeling's album is Number One and somehow Jonathan Ansell (of G4 fame) has also ended up in the albums Top 10. There are going to be a lot of very under­whelmed mums this Sunday…
Well done everyone.