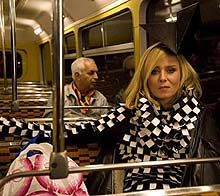 (Except do because it's 'good single alert' time.)
In line with EMI's novel new approach of releasing the most hit-worthy track from a female singer's album at the end of an album campaign, Roisin Murphy's new single is the brilliant* 'Movie Star', and it looks likely to close the whole 'Overpowered' era.
For the video Roisin has persuaded the notori­ously camera shy Jodie Harsh** and several other extremely cool people from the London 'scene' to appear.
We're not sure if the video will really open up Roisin to Crawley record buyers but that's probably not what Roisin wants anyway. In fact in some ways, although we'd have loved an artist like Roisin to make a bigger impact outside London and the major cities, we're really impressed with how she and her label have stuck to their guns, styl­ist­ic­ally, through the four singles of this whole campaign.
Anyway, here's the video.
httpv://www.youtube.com/watch?v=YteN4C_G1Pc

If you think the people in the video look stupid, it is called FASHION. (Ask your mum and dad.)
* The other singles have been briliant as well but not exactly what you might call 'chart-bound sounds'
** Actually not a real woman — it's a bloke in a wig