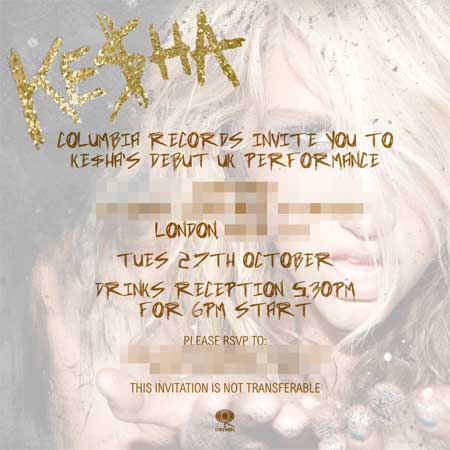 Ke$ha is per­form­ing at a soph­ist­ic­ated showcase (trans: FREE BOOZE FREE BOOZE FREE BOOZE) in London next week and we've got ten pairs of tickets to pass on so that you, the Popjustice viewer, can see this talented new singer (FREE BOOZE FREE BOOZE FREE BOOZE) perform her wonderful songs (FREE BOOZE).
If you want to come, send an email to [email protected] and tell us what position you think this single…
httpv://www.youtube.com/watch?v=sXMu14YlfXs

…will reach in the UK. (It's the Ke$ha single, FYI.) Winners will be picked at random — closing date is tomorrow (Thursday), 6pm UK time.