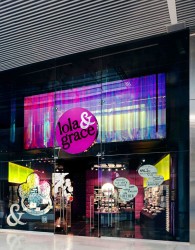 Everyone likes a com­pet­i­tion, and here is one.
What's this all about then?
We've partnered with jewellery brand Lola & Grace, who want you to know all about their Unlock London campaign and would like to give away some music stuff to a Popjustice reader.
What's the prize?
Tickets to Field Day, which features Jessie Ware, Metronomy, Kindness and Grimes, as well as Popjustice favour­ites like Beirut and Zulu Winter.
A six month mem­ber­ship to Rough Trade albums club. Will they pick Justin Bieber's new one for next month? Who knows!
Some speakers that look like this.
What do I actually have to do?
Go to this Facebook page and get stuck in.
And that, ladies and gentlemen, is that. Good luck!