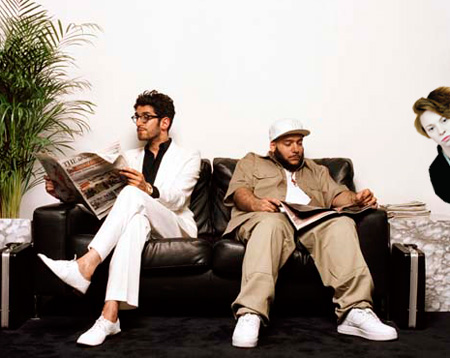 Unless you are mental or an idiot you would surely agree that there are no possible cir­cum­stances under which news of a NEW SONG WITH LA 'ELLY JACKSON' ROUX SINGING ON IT is not cause to hang out the bunting.
So get the bunting ready, for Elly is the guest vocalist on the new Chromeo single. The song is called 'Hot Mess' — it's a new version of the tune that's on Chromeo's current album — and it is out on January 17.

We have heard it. In fact we have been hearing it quite a lot. And it is
very good. In news that will come as a surprise to precisely nobody it sounds, er, like a Chromeo track with La Roux on it. If you've got the album version of the song, what you need to imagine is
that after the chorus (ie at 0:46 on the album version) and whole new chorus — the La Roux bit — excit­ingly appears.

Here is the album version.

[youtube]k8xPEkmyIzo[/youtube]

It sounds like she is singing "if I'd only known the attention you crave, could this be the reason I'm running away? So I'm breaking the chain, because love isn't meant to complain." She may be singing something else. She does some verse stuff later on as well.

Anyway it's all jolly listen­able so there you go.