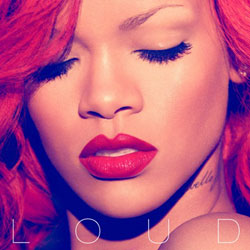 Rihanna's 'Loud' has now leaked upon the internet, but you can hear the whole thing legally if you wish via a fairly simple but still unne­ces­sar­ily com­plic­ated mechanism involving social media.
'Rated R' took precisely two listens to make total sense; certain tracks on 'Loud' is taking rather longer.
The con­clu­sion we draw from this is that they are either subtle 'n' brooding slow­burn­ers, or just not very good. We will give Rihanna the benefit of the doubt because she has lovely hair and is pretty, but if it turns out that we have been wasting our time we will be invoicing Rihanna for the hours we have devoted to the album so far.
Harsh but fair, Fenty. Harsh but fair.