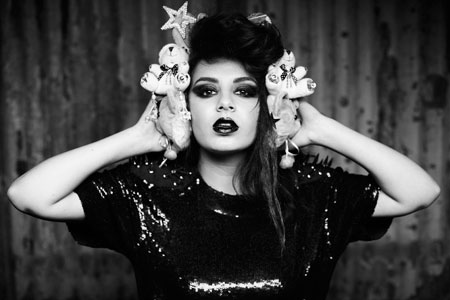 Eighteen year old Brit sensation-in-the-making CHARLI XCX releases her brand new single 'Stay Away' on May 16th through forward-thinking indie label This is Music (Mujava's"Township Funk", Boy 8‑Bit's "Baltic Pine")

Born and raised in Bishop's Stortford, Charli has recorded and performed through­out her teens, coming up through the East London warehouse rave scene, but this release marks a musical shift. With inspir­a­tion springing from Kate Bush, David LaChapelle, Justice, Patrick Wolf, James Bidgood, Hercules and Love Affair, Charli's music explores the darker, more emotive and sub­vers­ive side of pop.

Co-written and produced by Ariel Rechtshaid (Glasser, Diplo), "Stay Away" is as knock-you-to-the-floor as intro­duc­tions come. It combines all the majestic bluster of the 80s with distinct post-mil­len­nial pro­duc­tion. It's an epic and heart-wrenching song about 'unre­quited love and being tainted by someone so you can't be around them any more'.

Available to purchase on 12 inch vinyl, the digital package also contains a heady array of remixes: Witch House ori­gin­at­ors Salem, hyped West London producer T Williams and a massive rave remix of new track "Jungle" from Bristolian producer Phaeleh.