As those of you whole follow us Upon The Twitter and elsewhere will be aware, we were a little impressed by Take That's riot shields at the Brits.
The fact that they were a leftover idea from a banned X Factor per­form­ance was more than com­pensated for by the way they made Plan B's own attempt at an onstage riot seem hil­ari­ously po-faced. But mainly we just liked the fact that they were a big shiny thing with a Take That logo on.
Well it seems we dropped a suf­fi­cient quantity of increas­ingly desperate hints, because AN ACTUAL TAKE THAT RIOT SHIELD arrived at Popjustice HQ last week.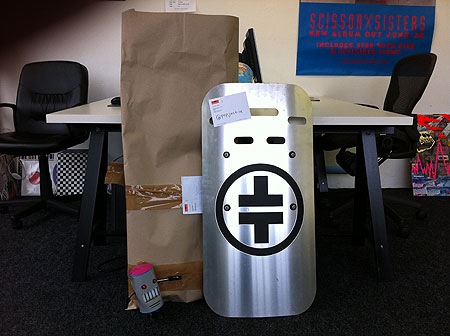 It is one of the best things we've ever touched. And we have touched some impress­ive things.
Here's an inter­est­ing article about the history of the riot shields.