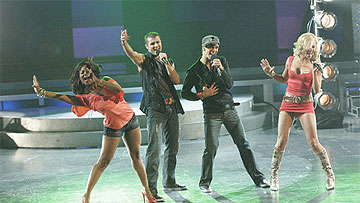 We live in hope that one day we will be able to turn on the tele­vi­sion without the threat of Bruno Tonioli's stupid face all over the place and for the last couple of months The Americans have endured a similar problem because the almigh­tily rubbish Dance X has been on US screens as Dance War.
The whole thing drew to a close recently and the winning band, still known as Team Bruno, have got a pretty good debut single called 'Falling In Love'. It's pretty chirpy in a reswizzled-late-90s-Cheiron sort of way.
[audio:teambruno.mp3]
The verses are a bit chronic, unfortunately.