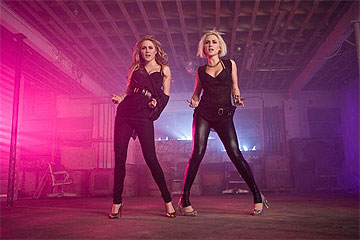 We mentioned the Brit & Alex single a few weeks ago so perhaps you would like to see the video.
The song is from the 'Step Up 2: The Streets' soundtrack (along with about a million other things) so the video's a bit all over the show — it starts off behind the scenes at a video shoot, shows about three quarters of the entire 'Step Up 2: The Streets' film via a dodgily thrown-in bit of iPhone product placement while Dallas Austin's ludicrous 'frog' effect goes out of control, then has the actual video the opening sequence of the clip was behind the scenes at, then has some more 'Step Up 2: The Streets', then goes behind the scenes again…
It is all very confusing. Fortunately there is a good bit with a dance routine involving office chairs which we will be recre­at­ing at Popjustice HQ later today.
Very physical.