Do any of the following images from Santogold's 'LES Artistes' video look suitable for broadcast before the watershed?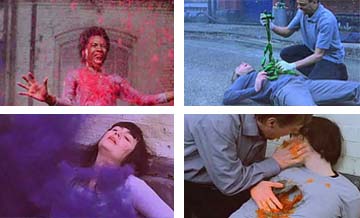 Wait, don't panic. It's only a bit of paint. People rarely spill green sausages from the gut after a stomach injury and blood is not orange.
Anyway, owners of Mark Ronson's 'Version' album will remember that Santogold con­trib­uted vocals to the 'Pretty Green' track but she is, of course, a Quite Good Popstar in her own right and you can click here to watch Santogold's extraordin­ary 'LES Artistes' video in a world exclusive capacity.
For those of you trau­mat­ised by scenes of artistic bloodshed and violence, here is a picture of Santogold on a horse.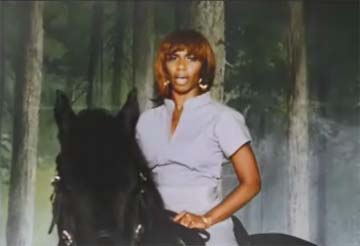 Santogold on a horse, ladies and gentlemen. If you are now wondering why she looks so ruddy fucked off about the whole ordeal, we can also inform you that Santogold is allergic to horses and her anti­histam­ines hadn't kicked in. (Also a world exclusive, exclusive fans.)