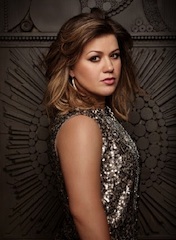 In 'political popstar gone wrong' news, Kelly Clarkson has caused a bit of a hoo-ha on Twitter after pro­fess­ing her love and support for Republican Candidate Ron Paul. (Hollywood Reporter) Faced with dis­gruntled fans, she later 'took to WhoSay' and wrote "man my eyes have been opened to so much hate tonight… If you don't agree with me simply unfollow me".

Call off the SOS signal and start polishing those purity rings: in a clear sign that his solo career has gone exactly as planned, Joe Jonas has revealed that the Jonas Brothers are looking to record new music together next year. (Cambio)

Notably video-shy artiste Nicki Minaj will 'appar­ently' be releasing videos for both 'Roman In Moscow' and 'Stupid Hoe' next month. (Ace Showbiz)

Beyoncé has listed her favourite songs of 2011, which includes familiar faces like Jay‑Z, Kelly Rowland, and erm, James Blake. (Beyonce Online)

In 'socialite today, popstar tomorrow' news, Comic Relief Does Fame Academy 2007 champion Tara Palmer-Tomkinson has been recording music with the label Juicymusik and is planning a pop career under a pseudonym no-one knows (or cares) about. (The Telegraph)

Gimme all your rubles: Madonna has been 'expanding' her gym business by opening a branch in Russia. (Daily Star)

Olly Murs might not present The Xtra Factor next year, as he's worried about getting "typcast". (Daily Mirror) It's a real shame, the 'chemistry' between Murs and Caroline Flack made for such riveting viewing.

Marvin from JLS has 'revealed' his thespian aspir­a­tions to be "the next Colin Firth" and appear in rom-coms in the future. (The Sun)

And finally, a fire broke out at a recent LMFAO's concert in Honduras, but luckily nobody was seriously injured. (Contactmusic) After the incident Redfoo was sens­it­iv­ity per­son­i­fied, noting that it was an "epic concert tonight!!!! Everybody in Honduras, we set the place on fire!!!!!" Nice one Redfoo.
THAT WAS some of THE NEWS.