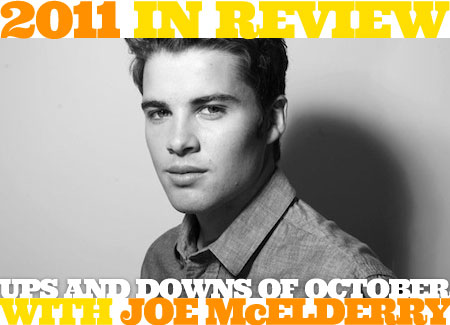 Joe McElderry released two albums in 2011 — one in August and one in November. So we decided to have a chat with him about October.
In October, Westlife announced that they were to split after a tour in 2012.
How are you coping?
(Laughs) I'm coping alright, sur­pris­ingly! Yeah, I mean they're an amazing band and they've had abso­lutely amazing success and I think, hopefully it won't be the definite end because I'm sure they'll get back together and do a reunion or something.
It seems likely doesn't it?
Yeah, I mean they're a great band, they're a very very good band, nobody can take it away from them, the success they've had. I wish them all the… Congratulations.
Also in October a man called Nigel in New Zealand was crowned World Scrabble Champion of 2011.
What's your favourite word?
Favourite word? Probably ono­ma­to­poeia. (Laughs)
That's a good word.
It is. It sounds intellectual.
Are you a fan of the sound of it, or what it means, or both?
I think just the sound of it. It makes you sounds quite clever if you can say it. (Laughs)
Do you know what it means?
Oh my God. I do know what it means, hang on! Onomatopoeia is the sound of… It's a word that sounds like something but isn't, isn't it?
It's more like the word sounding like the actual sound of what's happening.
Yeah, yeah, yeah, so if it's 'freezing' that's an example.
Erm…
'Icy cold'?
Er…
I think that's right!
Do you like the word 'moist'?
'Moist'?
Yes.
Do you like that word?
The actual word, not the meaning.
(Uncomfortable silence)
Estimates claim that the world's pop­u­la­tion has reached seven billion.
What would be the best way to lower that figure?
I think that probably the biggest thing that I suppose would lower our pop­u­la­tion would be a meteorite or something. So that would kind of be the quickest way of doing it? Yeah, not that I would want that to happen! It seems to be the one thing that would cause mass destruc­tion. (Laughs)
A court in America granted con­sti­tu­tional rights to whales after cam­paign­ers argued that they were being kept in con­di­tions that violated the ban on slavery.
Do you think animals deserve the same respect as humans?
Obviously in places like pre­ser­va­tion centres where they help animals and things, that's fine, but if it's just a zoo — and I'm guilty like everybody else of going to the zoo, going to Seaworld and Disney and seeing these animals. But at the end of the day, I wouldn't like it if I was kept in a tank 24/7 and made to perform everyday, you know what I mean? Actually that probably is what happens to me, isn't it? (Laughs a lot).
I feel a bit like a captive whale! No I'm joking. No, it's not really fair and some of the con­di­tions they're kept in, the tanks aren't that deep, and it's like being on tele­vi­sion 24/7. People are just looking and tapping on the glass; they probably want to have a free life.
Richard Branson opened the world's first com­mer­cial spaceport, Spaceport America, in New Mexico.
If you were to fly to the Moon, what one thing would you take with you to show to the aliens to prove that we were a civilised species?
I would take my album and play it to them.
Amazing.
Yeah, I would educate them on a bit of music and take my album!
Which album would you take, out of interest?
Maybe… I would take all three actually.
Which one do you think is the most 'Joe McElderry'?
I think probably… Oh God! I think the first album was such a change from what I'd done on The X Factor that people probably think that wasn't very me. As much as I love that album and I'm really proud of it, I think the 'Classic' and 'Classic Christmas' albums def­in­itely show my voice at its best and the range. So probably 'Classic' or 'Classic Christmas' are the ones I would take.
Disgraced golfer Tiger Woods fell out of the world's Top 50 for the first time since 1996.

Do you think what he does in the bedroom, or on a table top, or in the back of a Ford Mustang, is anyone's business but his own?
Well I think it's not anybody's business, but at the same time it kind of is isn't it? Because he's in the public arena. I think — I was talking about this the other day — it isn't very sane when things like that do get printed, because if he's done something like that then it's probably karma smacking him right on the face, but at the same time I do always think there's so many other people except the indi­vidual that's affected by it; the families, the brother, the sisters, the wives, the children. I think that's when it needs to be protected. Not from the person that's done it because I suppose they should have thought about that. I think the families and the people that are secondary are probably more affected by it than the indi­vidual them­selves. So I think pro­tec­tion for the family more than the person.
Swedish poet Tomas Transtromer wins the 2011 Nobel Prize in Literature.
Is poetry still a valid artform in 2011?
Totally. I mean I think songs are poetry you know? Stories are poetry. Everything's poetry. So I totally agree with that, I think it's def­in­itely a valid artform. I think people probably read poetry without realising — you don't sit down with a poem book and read it, but you probably read poems. Just because something doesn't rhyme doesn't mean that it's not a poem; a song can be a poem, a song is a poem really, you know what I mean?
Apple launched its latest iPhone and it sold 400 million units.
People seem obsessed with tech­no­lo­gical gadgetry rather than simple things. Do you think that's a sad reflec­tion of the state of our world?
I don't think it's a sad reflec­tion, I think that times have changed in that we rely on tech­no­logy a lot more than we did. In earlier days, even a couple of years ago, there's things like Blackberry Messenger, iPhones, all these things we rely on them a lot more than we did and if we didn't have them we'd still live, we're not going to die if we don't have a iPhone. It's that kind of society where if it's there, you obviously want it, you want to have it. It's not as big a deal as people make it out to be.
Sebastian Vettel won the Formula One World Championship in October, for the second year in a row.
Do you consider driving around in a circle to be an actual sport?
Definitely yeah, of course it's a sport!
Do you think? It's def­in­itely not just driving around in a car?
Yeah, but it's not really just driving around in a car, because if it was just driving around in a car everybody would be a Formula One driver, wouldn't they? (Laughs)
But you don't have to be skilled do you? Or do you?
I think it's like any form of art or anything that anybody does competing-wise. If everybody could do that then it wouldn't be such an elite sport or an elite form of per­form­ance, because if that was the case then everybody would just be doing everything. And I think it takes a lot of skill; it's control, it's a kind of mastery around the track, I def­in­itely think it takes a lot of practice.
If pop music were a sport, where would you be in the rankings?
(Laughs)I don't think that's for me to decide! But I'm quite a per­fec­tion­ist, so I would like to think I'd be pretty high up.
Okay, so Top 10?
Based on my work ethic, yes.
So Top 10 for effort at least?
Well, you decide that one. You can put me where you think…
We're going to put you at Number 9 for the time being.
Oh that's pretty good, I'm happy with that!
Basically you're higher than Olly Murs.
Sounds fabulous to me! (Laughs)
*


JANUARY with Little Boots: CLICK HERE


FEBRUARY with Eric Saade: CLICK HERE


MARCH with Mark Feehily: CLICK HERE


APRIL with Cher Lloyd: CLICK HERE


MAY with CocknBullKid: CLICK HERE


JUNE with Jordan Rizzlekick: CLICK HERE


JULY with Marvin Humes: CLICK HERE


AUGUST with Will Young: CLICK HERE


SEPTEMBER with Yasmin: CLICK HERE


OCTOBER with Joe McElderry: CLICK HERE


NOVEMBER with Patrick Wolf: CLICK HERE


DECEMBER with Aino Icona Pop: CLICK HERE