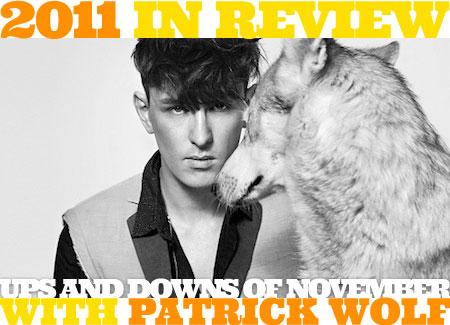 Patrick Wolf released an amazing album and an EP in 2011, so we thought it best to have a chat with him about everything November.
Kate Middleton attended a ceremony at the Cenotaph in London on Remembrance Sunday, and wore a pin of two poppies inter­twined rather than the usual single one.
What's your favourite London monument?
I really like Cleopatra's Needle. It kind of sums up London really. It's kind of not really from here, it travelled to London. I'm one of the 5% born in London, everyone else has kind of come to London and it survived the war and it's covered in marks and shrapnel, so it's kind of like a survival emblem. It also went down to the bottom of the sea for about sixty years and dis­ap­peared and they had to raise it up from the ocean.
Shadow Chancellor Ed Balls revealed that he cries when he's watching Antiques Roadshow.
Do you own anything you think would excite the Antiques Roadshow experts?
Er…
If you were to go on it what would you take?
(Silence)
You must have some old instru­ments that you could take?
I've got tonnes, I just don't know whether… Actually, there is something. I've got this elec­tronic accordion by Farfisa called the Transivox from the brother of the accordion player who used to play in Pink Floyd and it was espe­cially for arena shows. It has the bass on one side and the treble on the other.
They'd lose their shit about that to be honest.
It's impossible to pick up too, it's so heavy.
That John Lewis Christmas advert was released leading to a nation­wide tissue shortage and 'uproar' from certain people about its use of a song by The Smiths.
What are your thoughts on people covering other people's songs?
(Perhaps unsur­pris­ingly, Patrick hasn't seen the advert so we spend a couple of minutes explain­ing it to him. He seems unmoved.)
I think it's really important to cover other people's songs. At the beginning of pop music it was all covers, no one really wrote their own material, people wrote music for bands and singers. It's only in the last fifty years where the idea of singer-song­writers who write their own material being popular has existed. I'm always covering songs, I think it's important. Then there's X Factor stuff, which is all covers and I don't get anything from it. It depends who is doing it. If it's somebody amazing then I have no problem with it, but I know that when it's adverts and things they don't get the recording rights so they re-record it really badly.
People have been getting upset about Leona covering Nine Inch Nails' 'Hurt'. Have you heard it?
Yeah, I think I heard it, it was kind of mumbling on X Factor. I can't really criticise. I remember covering 'Running Up That Hill' and it went up on YouTube and there were some of the craziest comments I've ever seen, people just going 'HOW DARE YOU'. I read an interview with Susie Q and she said 'don't be afraid of but­cher­ing a classic'.
The amusingly-named Baroness Trumpington hit the headlines after flicking a V‑sign at Lord King after he made a derog­at­ory remark about her age.
When was the last time you were asked for ID?
I get asked every day. My skin got really bad from shaving twice a day for the tour so I've let my beard grow and now I don't get IDed at all. So it was obviously to do with wearing make-up and shaving.
When you say 'every day' does that mean you're buying alcohol or cigar­ettes every day?
Erm, alcohol yes. (Laughs)
Camilla Parker-Bowles got a henna tattoo in Zanzibar!
Are you a fan of 'body art' or does it always just look a bit cheap?
I think tattoos are beautiful if they're done correctly, but if it's going to be like the Spice Girls with lots of like random phrases done in awful writing, then it's not really my style, but I don't want to criticise anybody for wanting to make a statement about their identity. Even Camilla Parker-Bowles.
Do you have any tattoos?
Yeah, I have two. On my 18th birthday I had a horse shoe with the number seven – which is 'good luck' in numer­o­logy – tattooed on my leg. Then when I was about to tour Wind In The Wires I had this tapestry created with a unicorn so I had that done on my heart.
Barack Obama ordered his staff in the White House to cut down on 'swag' — pro­mo­tional mugs and keyrings that were pre­vi­ously dis­trib­uted willy-nilly.
If money were no option, what Patrick Wolf 'swag' would you make?
I'd love to do my own bicycle. I was actually meant to do that year. There would be one made for charity and then there'd be a diffusion line of bicycles. I also did my first Patrick Wolf calendar.
OK, where can you buy that? Not in HMV one assumes.
www.patrickwolf.com (Laughs)
Hugh Grant's middle name, Mungo, was revealed during the Leveson Inquiry.
What's yours?
D‑e-n-i‑s, after the Blondie song. It's Dennis in English, but it's meant to be Denis.
Following his death, it was announced in November that Jimmy Savile asked for the words 'It was good while it lasted' to be engraved on his headstone.
What would you have on yours?
I don't want any words. I want to have an Aeolian harp, which is a harp made out of concrete and when the wind blows through it it makes a whistling noise. So whenever the wind blew I'd still be making music.
And finally, it was announced that the 23rd Bond film would be called Skyfall.
Would you ever do a parachute jump?
I'd love to yeah. I'd like to do sky-diving too.
Why don't you try to do that next year?
I will, yeah, thanks. (Laughs) I haven't really planned 2012 yet…
*


JANUARY with Little Boots: CLICK HERE


FEBRUARY with Eric Saade: CLICK HERE


MARCH with Mark Feehily: CLICK HERE


APRIL with Cher Lloyd: CLICK HERE


MAY with CocknBullKid: CLICK HERE


JUNE with Jordan Rizzlekick: CLICK HERE


JULY with Marvin Humes: CLICK HERE


AUGUST with Will Young: CLICK HERE


SEPTEMBER with Yasmin: CLICK HERE


OCTOBER with Joe McElderry: CLICK HERE


NOVEMBER with Patrick Wolf: CLICK HERE


DECEMBER with Aino Icona Pop: CLICK HERE