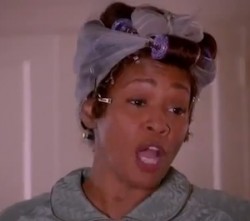 The trailer for Whitney Houston's final film role Sparkle, also starring Jordin Sparks and Cee Lo Green (of course), has been released. You can watch it here.

In further popstars in movie trailers news, the first teaser for Katy Perry's 'highly-anti­cip­ated' Part Of Me 3D film has been unleashed. (YouTube)

As well as 'teasing' about the pos­sib­il­ity of a new single by the end of the year, Adele has expressed her desire to work with Beyoncé in the future. (Billboard) Just imagine them singing 'Halo' together. Quite a thought, isn't it? Mind you we'd rather see them doing 'Crazy In Love' together WITH ADELE DOING THE RAP.

Gary Barlow is appar­ently stuck on one of the Solomon Isles in the path of an oncoming cyclone, so if you're in the area have a look around to make sure he's alright. (Daily Star)

In old news news, Cheryl Cole has claimed that Louis Walsh never properly managed Girls Aloud, and was only there to tell them they were fat and to pick up the cheques. (The Sun)

'Sleepy Windbreaker' hitmaker Adam Levine is set to star in the upcoming series of American Horror Story. (Ace Showbiz)

Brace yourself: an audio clip of Florence of Florence '+' The Machine fame and Josh Homme singing 'Jackson' together from her upcoming MTV Unplugged session has been released online. (NME) Literally, what a racket.

Here's a fairly inter­est­ing article about who might be writing some new songs for One Direction. (The Independent)

And finally, Nicola Roberts has been tweeting about missing her best friend. (Twitter) We're only ever a phone call away, Nicola. We miss you too.
THAT WAS some of THE NEWS.