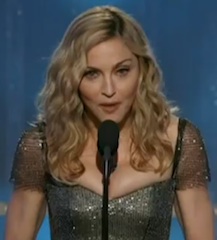 After Elton John announced pre-show that Madonna "doesn't have a fucking chance of winning tonight", he had to sit and watch as 'Masterpiece' beat 'Hello Hello' in the Best Original Song category at the Golden Globes. (Daily Mail) It was her first win since the fondly-remembered Evita period.

In other Golden Globes news, 'Ass On The Floor' rapper P Diddy threw a wobbly at the pre-show party, as the bar were serving Grey Goose instead of his preferred choice ('his own brand') Ciroc vodka. (New York Post)

Expect 'inspir­a­tional' ballads about over­com­ing fears and dusting yourself off after a bad day by the buck­et­load for Little Mix's debut album, as big-hearted warbler Jessie J would like to pen some songs for them. (Daily Mirror)

In news that will surprise next to no one, Kelly Rowland allegedly won't be 'putting it down' as a judge on The X Factor next year. (Examiner)

Gabriella Cilmi is appar­ently going to have "con­sec­ut­ive albums" finished by the middle of the year. (Herald Sun) Let's just get one out of the way first Gabbo, right?

'Busy' hitmaker Olly Murs is hopeful of 'doing a Del Boy' and becoming a mil­lion­aire by the end of his tour. (The Sun)

In 'unne­ces­sary shoe­horned-in rap' news, an impec­cable Flo Rida verse has been added to Rihanna's 'We Found Love' for a remix nobody wanted. (Idolator) It is, however, quite good.

DJ White Shadow has responded to Madonna's recent comments on 'Born This Way', stating "I obviously do not hate Madonna, or belittle her talent or achieve­ments, however, if she thinks we stole a song from her she is wrong". (Ace Showbiz) In a mild-mannered signoff that is certain to improve this awkward situation, White Shadow added "If you don't like what I have to say, unfollow me. F**k off".

And finally, Pitbull-col­lab­or­ator Ne-Yo is regretful that he chose to chew licorice instead of tobacco for his role in the bound-to-be epic war film Red Tails. (Contactmusic) "I wish I tried the tobacco," he notes, "because it [the licorice] tasted like faeces!" Amazing.
THAT WAS some of THE NEWS.