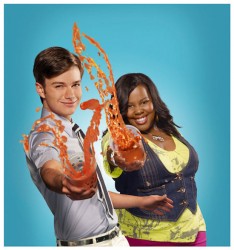 Glee's fourth season will 'pay tribute' to the music of Michael Jackson and The Bee Gees.
The show returns to US TV on January 17 and Chris Colfer told MTV that he's most looking forward to his duet in the Michael Jackson episode, saying: "Well, I sing part of 'Black [or] White'. I'm the White in 'Black [or] White'".
The actor also revealed that he'll be per­form­ing 'Ben', "that famous song he wrote for the rat".
The show's creator Ryan Murphy has also hinted at plans to 'honour' The Bee Gees' Saturday Night Fever soundtrack in an April disco special.
He told TV Guide: "We've never done disco on the show, but I'm inter­ested in the genius of The Bee Gees." He promised to ask John Travolta to be involved in any Bee Gees episode.
The Michael Jackson episode will be broadcast in the US on January 31.