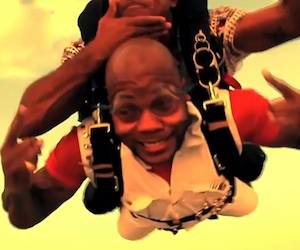 Flo Rida jumps from a heli­copter and drives a hov­er­craft in the video for 'Wild Ones', but unfor­tu­nately Sia is nowhere to be seen. (YouTube)

Give me all your money: tickets for Madonna's two UK shows are on sale today. (NME)

Katy Perry has released the cover art for 'Teenage Dream: The Complete Confection', which will inlcude three new tracks. (Billboard) Now we can't be sure, but we don't think Katy was really wearing that candy crown when the photo was taken.

According to Chapman University's director of com­mu­nic­a­tions and media relations Mary Platt, rumours that Miley Cyrus was about to embark on a course were just "an internet hoax". (Contactmusic)

Two thirds of Destiny's Child showed up at Essence's Black Women In Music event last night: Kelly Rowland performed 'Motivation' with Eve, while Michelle Williams watched in support. (Daily Mail)

Adam Levine has set up his own record label, and his first signing is Mr. Schuester from Glee. (E! Online)

Authentic Chanteuse Lana Del Rey and Skylar Grey both performed at a concert for Interscope boss Jimmy Iovine last night, with Lana giving a "stellar" (she managed to get through it without falling over) per­form­ance of 'Video Games'. (Rolling Stone)

The Jonas Brothers have been 'waxing lyrical' about Adele ahead of Sunday's Grammy awards, with Kevin noting that "she's only like one of the best artists ever". (MTV)

And finally, Film Director Plan B's debut feature iLL Manors sounds like a jolly old romp, with one critic describ­ing it as "really harrowing, gross stuff…it put me off my food and I couldn't look anybody in the eye for a few days after­wards". (The Sun) To be fair, we had the same reaction to Seeing Double.
THAT WAS some of THE NEWS.