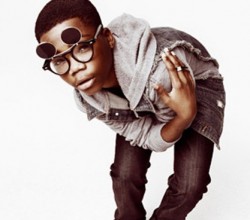 Singing Child Astro says the debut album he's "grinding" on will be a "classic".
In fact, he feels the album will influence musical trends, telling Vibe: "I think it's gonna bring back that hip-hop feel."
The modest rapper wouldn't reveal the producers he's working with, pre­fer­ring to "give no names away at all" but said the songs he's recording are "pretty dope".
Referring to his US X Factor big break he stated that "the X Factor is not my career at all", adding: "Some people are going to think that that's were I first started and that's how I got famous, and it kind of is…"
So modest.