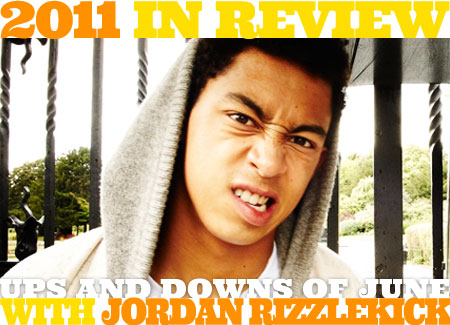 Rizzle Kicks' year involved some trumpets and some Olly Murs. But that is not what we are here today to discuss, because the events of June require analysis. Like so:
In June, an outbreak of toxic E. coli was linked to domestic sprouts.
Is this further proof that Sprouts should be banned?
What sprouts, like brussel sprouts?
Yeah.
I didn't even know that was a situation.
What are your views on sprouts?
Erm, I have sprouts with Christmas dinner.
But do you enjoy them or do you just eat them because they're on the plate?
Probably the plate thing. I wouldn't necessary cook sprouts out of choice. I do find they're quite an inter­est­ing vegetable.
But appar­ently they're linked to E. coli, which caused some people to get very ill.
Oh that sucks.
That does suck.
Well you know what? I think, me per­son­ally, I'm indif­fer­ent but I think a large majority of people would be like 'ooh, fuck sprouts anyway'.
So if we got rid of them, no one would really care, would they?
No.
Also in June, a US rep­res­ent­at­ive called Anthony Weiner…
What?
A US rep­res­ent­at­ive — a member of Congress — called Anthony Weiner…
Wiener?
Yes… Resigned from office after he sent explicit photos of himself to some lady friends via Twitter and Facebook.
Would you ever send 'racy' pictures of yourself to people via social media networks?
No, I wouldn't.
It feels like an alright thing to do in 2011, seeing as Dappy did it, and Chris Brown.
I think that was more, like, it was a phone-to-phone thing that was exposed. But no, I've never really been like that. I just… I don't know. I just wouldn't see the incentive really. With Dappy that was just publicity and was quite smart. His dick was like half the size of him! I don't know what situation I'd be in when I'd feel obliged to do that. If I'm not going to see this person, why do I bother… It's a weird thing. Maybe I'll find out and then I'll ring you back.
Li Na became the first tennis player from Asia to win a Grand Slam after she defeated Francesca Schiavone at the French Open.
Do you think female tennis players grunt too loudly?
(Laughs) No, I don't think it's too loud. I think it's quite funny.
Do you think it must be off-putting for the other player?
For the players opposite?
Yeah?
You know what? I'm just fas­cin­ated how female grunting entered the world of tennis. I just wanna know, cos I'm pretty sure it wasn't always like that.
Why do you think they do it?
It's like a focus point for power I think. Like you know how boxers breathe out when they punch, a technical thing like 'choo, choo, choo, choo'. So they empty their lungs and that. Maybe it's like a physical thing, like emptying your…
Emptying your?
…they've managed to make something that's ulti­mately quite inap­pro­pri­ate socially accept­able. But there are some that take the piss, like Sharapova is a joke. Kinda like 'AEEERRRRRRRAAAAGGGH!!! AEEERRRRRRRAAAAGGGH!!!' If I was fucking any of those girls, I'd just feel like I was being a tennis player. But imagine if they were just quiet! That would be even worse! Like, 'I've heard you do this out on the tennis court!'
Beyoncé headlined Glastonbury and it was a triumph.
Did you under­stand all the neg­at­iv­ity around a popstar head­lining a festival? Or do you think that something like Glastonbury is more for rock bands?
No, I don't agree with that in the slightest. I think it should just be like a reflec­tion of a mass appre­ci­ation of a par­tic­u­lar artist, regard­less of their genre. I think that Beyonce is a phe­nom­enal artist, amazing. And if a rock band captures the world next year, then a rock band will headline Glastonbury. It's just music's pro­gressed at a time that Glastonbury was probably at its best his­tor­ic­ally before the fence was put up and stuff. When it was all 'let's rebel' and Britain wasn't in a state of fucking recession. That was when rock music was at its biggest. You had Blur and Oasis, everyone smashing it in like '94 or whatever.
And also Coldplay and U2 were the other head­liners, so it's not like it was Lady Gaga, Beyonce and Rihanna.
I mean maybe if anything, the dom­in­a­tion of Jay‑Z and Beyonce is just a little bit intim­at­ing to the world. Jay‑Z just com­pletely shut it down [when he headlined]. Was it Liam or Noel that cri­ti­cised him?
Noel.
That's appalling.
Noel is meant to be the intel­li­gent one.
Yeah, I know it's a shame. I really like Noel as well. But Jay‑Z kinda shut him up in that respect. I can under­stand that a change has become evident, and people can be against that, just because if it's 'not broke, don't fix it' kind of thing, but I think it was necessary and something that was always going to happen and it's just progression.
Scientists dis­covered the secret to making the best-tasting cup of tea.
How do you take yours?
Milk, two sugars, sometimes one sugar when I don't want to have a sugar buzz.
So is it quite milky?
No, stronger, and Earl Grey predominantly.
You have Earl Grey with sugar? Are you mental?
I love that shit. Everyone says that. I think I might go off it. To be honest you're right, I'll probably avoid the sugar, maybe one, maybe half a spoon. Builders' tea needs two sugars. But I've always seen Earl Grey as the tea I have. I have Assam with sugar as well. I need to get endorsed by Twinings. If you have any connections…
What about Tetley?
Erm…
Bit low rent.
Twinings have Stephen Fry.
Is Twinings the right look for you two, though?
Oh fuck yeah it is. Twinings is cool. We'd change their font and everything.
The word 'Babes' was added to the Oxford English Dictionary.
Who do we have to blame for this?
Isn't it The Only Way Is Essex?
We'll ask the questions.
When did it start? Well in terms of making it publicly accept­able I'd say TOWIE.
What do you make of col­lo­quial words being added?
I do hear it a lot. It's always a news story. ''Ant and Dec' have been added to the English Dictionary'…
And languages change all the time, don't they?
Maybe Shakespearean language was seen as sleazy and col­lo­quial back then.
Here are some of the other things that were added: 'Bloggable'.
Right…
'Cyberbullying'.
Right…
'Sexting'.
Oh my God.
'Tanorexia'.
'Tanorexia'?!
Which is an addiction to tanning.
FUCKING HELL. Is that it?
That's what it means.
That's depressing.
'Nom Nom'.
Oh no! That's a word describ­ing something being tasty? That's actually quite depress­ing. This is all a reflec­tion of our current society. Either you're on the internet, or you're trying to fuck some Wotsit-looking girl. 'Wotsit-looking girl', that should be in there I think.
The Guardian published a story about the envir­on­mental disasters that have started to strike with alarming reg­u­lar­ity, referring to them as 'global weirding'.
Are you worried about the state of our planet?
So you're just talking about global warming?
Well it's called 'global weirding'.
You know what? I actually do have quite a knowledge of global warming. I think there's every reason to be worried. I'd love for everyone to be like 'you know what? We should be more eco-friendly'. But it's only to our own benefit if we have kind of Zero Carbon Footprint and stuff. Which is quite easy to have, if anyone bothered to look. It's not that difficult and it always benefits you more than anything. That's what I think is amazing about our gen­er­a­tion, is that ease of use will over­shadow logical steps. It's like 'hey, do you wanna save our planet and save a lot of money on elec­tri­city and gas bills? Or do you want to fuck the world up and be out of pocket?' And they'll be like 'it'll be easier if it involves me not getting up'. It's just bullshit.
The problem before was that people couldn't be arsed to recycle as they had to travel in their cars and had to walk somewhere to get rid of it all, but now it's so much easier.
Exactly. People just aren't going to get their arse in gear, and places like Dubai who have the most natural sunlight, don't even use solar panels. The only thing I can see as positive is that there's a good chance that if we do carry on fucking up the world, it'll just be like a natural evolution. I'm not sure if it'll lead to us becoming extinct, or us beginning to birth a gen­er­a­tion with warmer blood or some bullshit like that.
We're not going to become lizards are we?
Well, hopefully not, but I wouldn't be surprised if we ended up as some kind of weird amphibian.
Well, that's something to look forward to.
Yeah, it'll be great.
Ryan Dunn, a member of the Jackass 'crew', sadly passed away.
Have you ever wanted to sit in a Portaloo full of shit and be shot into the sky, causing said shit to wash over you like water in a spin cycle?
No. It is funny watching it though. Would I do any anything on Jackass? I do like to be an idiot for someone's amusement, but I'd have to be quite pissed I think.
Would you papercut your eyeball?
No. Did they do that?
Yeah, in one of the films.
That's a fucking joke.
And in between all of their fingers and toes.
That's serious, proper stupid.
France was rep­rim­anded by the European Court of Justice for not doing enough to care for its dwindling pop­u­la­tion of wild hamsters.
Do you think it's right to keep animals in cages?
What. The. Fuck. You know what? I'm not an idiot, but I didn't even think of hamsters in the wild before. I think that's really weird.
So do you think hamsters should just be allowed to roam wild?
(Pause) WHERE?! What is there natural habitat?
That's a good question…
That's so weird. That's actually freaking me out, I didn't even think of that. Imagine hamsters in their natural habitat. WHAT THE FUCK? It'd be like Pokémon.
Do you agree with animals living in cages though?
You know what? I don't, but I'll live with it. That's the nature of things really, that humans are more powerful than a lot of animals so we can do shit like that. I was thinking about this recently. I was gonna go to the zoo with my friend the other day and I just suddenly thought 'hold on, the zoo's fucked up man, these animals in cages in London'. That's actually really horrible.
They're alright when you're a kid but as you get old they just start to seem a bit weird. Especially when you see polar bears wandering around looking really bored.
Yeah that's horrible. The kind of old fashioned way of going about things was fucking dis­gust­ing. It's still a bit twisted now. I think if people want to see animals they need to fuck off into the jungle.
*


JANUARY with Little Boots: CLICK HERE


FEBRUARY with Eric Saade: CLICK HERE


MARCH with Mark Feehily: CLICK HERE


APRIL with Cher Lloyd: CLICK HERE


MAY with CocknBullKid: CLICK HERE


JUNE with Jordan Rizzlekick: CLICK HERE


JULY with Marvin Humes: CLICK HERE


AUGUST with Will Young: CLICK HERE


SEPTEMBER with Yasmin: CLICK HERE


OCTOBER with Joe McElderry: CLICK HERE


NOVEMBER with Patrick Wolf: CLICK HERE


DECEMBER with Aino Icona Pop: CLICK HERE