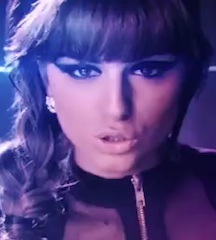 In 'slightly over-the-top 2011 backlash news', Cher Lloyd's 'Swagger Jagger' has been named the eighth most annoying song of all time in an attention seeking poll conducted by Top10.com. (The Sun) Crazy Frog's 'Axel F' was at Number One.

Adele's '21' has sold the not-exactly-small total of 5.28 million copies in the US alone this year. Those are the highest sale figures since Usher's 'Confessions' in 2004. (Reuters)

If you want to be the last to kiss her lips you might want to invest in Cheryl Cole's charity Red Passion lipstick, which has been launched following the roaring success of her heels-falling-off shoe col­lec­tion. (Daily Mail)

For the second year in a row, shy and retiring doesn't‑like-to-talk-about-it pop phil­an­throp­ist Lady Gaga has come first in the Celebs Gone Good Top 20 conducted by DoSomething.org. She has beaten off Justin Bieber who is behind her

'Losing Grip' hitmaker Avril Lavigne has been talking about her next album, which sounds like it will be pretty much like all her other ones. (Ace Showbiz)

'Apparently' Rihanna really loves wearing "Somerset's famously sensible footwear", Clarks shoes. (This Is Somerset)

Serious Actor Mark Walberg thinks Justin Bieber has "it" and is excited about working with him in an "upcoming bas­ket­ball-themed drama" (which doesn't exactly sound like the next Space Jam unfor­tu­nately). (MTV)

And finally, following in the footsteps of Alexandra Burke's exquisite watch col­lec­tion for Argos, Kelly Rowland is launching her own series with Dutch watch­makers TW Steel. (BET)
THAT WAS some of THE NEWS.