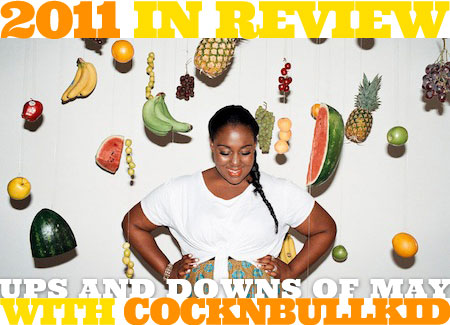 CocknBullKid's debut album 'Adulthood' was released in May this year, but that was not the only world-changing event to occur between April and June, as this illu­min­at­ing chat with Anita Blay — FOR IT IS SHE! — will prove.
In May, the final episode of Oprah Winfrey's talkshow was recorded in Chicago, and featured a per­form­ance from Beyoncé.
In what ways has Oprah Winfrey changed your life?
By just being her probably? Oh and also, there's this amazing YouTube video of her where she has this party around her house and they film it and it's ridicu­lous. You've just got this huge, impromptu party — Mariah's there, Patti LaBelle's there, Whitney's there, just every single person on Earth is there.
Wow.
Tom Cruise is there, and they're just standing up and having this massive singalong and it's literally ridicu­lous. I would advise you to YouTube it. That video has probably changed my life in various ways that I'm not even aware of yet.
What was Whitney doing? Was she just on the wine?
(Laughs) Whitney, I would say she was being lured by the Holy Spirit. Maybe that's what she would say.
Speaking of Mariah Carey, she gave birth to her twins, Monroe and Moroccan, in May.
Were you dis­ap­poin­ted the names weren't a bit more batshit crazy?
Erm… Well I think… I think they're suitably 'Mariah' names…
Monroe is quite sensible though.
Yeah but Moroccan?!
Moroccan's ridicu­lous.
Moroccan! (Laughs) But I love Mariah, I can't fault her. She is just like a nine-year-old girl trapped in a 40-year-old's body. I can't really say a bad word about her.
Have you seen the website that she's made for her children?
God, no!
It's called 'Dem Babies'.
(Laughs a lot) Amazing.
ITV axed "There's been a murder" catch­phrase generator Taggert in May.
Who is your favourite TV detective?
The Diagnosis Murder guy, what's his name?
Dick Van Dyke-guy?
Yes yes! The part of the character he plays. The name of the detective in Diagnosis Murder. This is a Google-able answer.
Google reveals that the name you're after is DOCTOR MARK SLOAN.
Okay, I think that's it. I watched a lot of Diagnosis Murder when I didn't have a job. I still enjoy the odd episode.
According to some pointless research, people in Britain stop referring to them­selves as young at the age of 35.
Did you agree with Aaliyah when she said age ain't nothing but a number?
Erm, no! Definitely not.
Is there a point where you're too old to do certain things, maybe in the pop music field?
Oh God. Well, no. I think the thing about pop music is that it does afford you a lot of ques­tion­able decisions and looks and actions. I can point to various examples. But at the same time you're putting yourself on that platform where you're def­in­itely… Well, you're just putting yourself up for slightly more ridicule than the average person. I mean, I don't think it matters because as a popstar you can get away with a shitload. For example Madonna, who I think is amazing.
People seem keen for her music to be 'age appro­pri­ate' — do you agree?
But in a way that's sort of the point, she never was a person to listen
to people. But I don't agree that she should be 'age appro­pri­ate', not really. She's not self-conscious about it, which to me means it's not a problem. Maybe she's in some sort of denial? That always helps. I think she's brilliant.
A man fell from a seventh-floor balcony in Australia after par­ti­cip­at­ing in the internet craze "planking".
Have you ever planked?
No, it looks stupid and it's not funny.
How does all this happen?
The internet allows for a lot of amazing things but a lot of crap as well. I've not done it myself.
There was a story about a women who was doing it in her kitchen, and she was using the drop-down door of the grill on her oven as the place to put her head.
Oh my God!
And of course the oven toppled onto her.
And is she with us? Is she still alive?
Yes she's still alive.
How old is she?
She's a mum in her thirties.
Jesus Christ. Oh my God.
Ming Ming, the oldest panda in the world, died at the tender age of 24.
If you could be rein­carn­ated as a bear, which kind of bear would it be?
I love a panda. I'd either be a panda or a polar bear. Polar bears eat every seven days, one meal every seven days. I think I'd do that. They've got very nice coats.
But did you see them on Frozen Planet? It looks quite sad.
No, because I've been away and I haven't really been home for a while, so I've missed all of them. I think I'm going to have to do a boxset.
Well basically there's quite a long journey that the male has to make to try and find a mate and then this poor female polar bear just has to fight off all these men and it's all a bit bleak.
Oh wow! That sounds a bit like my life. (Laughs) I am joking.
American Christian broad­caster Harold Camping announced that the date of the Rapture for all Christians would be May 21 at 6pm. Nothing happened.
What date would work best for you in terms of the world ending?
It'd be good to get the second album finished before anything like that. I don't mind releasing it posthum­ously, but there is a lot I want to do.
So we're talking four years at least?
(Sarcastically) That's hilarious! It should be done very soon, actually! We've only just got started but it should be ready before the end of 2012.
Samoa announced their plans to shift west of the inter­na­tional dateline, putting it a day ahead of Australia and New Zealand, therefore making trading with both countries a lot easier.
Do you think the UK should do away with the whole British Summer Time business?
I don't really have any feelings to be honest.
Oh come on! Do you miss daylight in the winter? Because if you have to go to work and it's dark in the morning and when you come home at night it's dark as well, that's just a bit depressing.
Yeah but that's just because of winter, isn't it? I mean one hour isn't going to make that much difference.
There is talk of doing it so that school kids can walk home in the daylight.
Hmm, yeah I guess so, but what's the dif­fer­ence with it being dark and not dark? I don't think the dark is actually that much of a problem if you're a maniac.
Lady Gaga performed at the Radio 1 Big Weekender, arriving half an hour late for the live broadcast and per­form­ing a seven minute jazz 'opus' when she did turn up.
Do you think Lady Gaga's been a good or a bad thing for pop music?
I think good.
Do you think she should take a year off?
No! I mean at the moment that's clearly her ambition [to keep releasing music], she works hard for it, she's doing well, and it's not as if it inter­feres or there isn't room for anyone else because she's up there doing it. I enjoy her music, I enjoy some of what she does, and I enjoy the whole show­man­ship of it.
Has she opened it up for slightly different types of popstars, do you think?
I think she's great, but one thing is that she's sort of made the avant garde or the altern­at­ive thing seem really everyday and popular now. When she first came out, the first five minutes after she was out it was really refresh­ing and 'ooh!', you know? But now you've got Kitty from The X Factor thinking she's Lady Gaga. So that's the only thing. I wouldn't neces­sar­ily say she's at fault but I think there's a lot of copycats who are now receiving the message wrongly and it's almost like Topshop eccentricity.
Well maybe we're revealing the problem with Lady Gaga, which is that everyone over-thinks what she does when actually it should just be loads of fun and if she wants to walk out on Saturday night telly with a decap­it­ated body on her shoulder, why not?
Exactly. But I also feel in a sense that she might take it so far that she's just sort of 'actually, I'm just going to come out in a nice cocktail dress, sit at the piano, sing my songs and then walk off'. And I think she can do that as well on occasion, which is great. But in a nutshell I think she's brilliant, yes, and I enjoy her.


*


JANUARY with Little Boots: CLICK HERE


FEBRUARY with Eric Saade: CLICK HERE


MARCH with Mark Feehily: CLICK HERE


APRIL with Cher Lloyd: CLICK HERE


MAY with CocknBullKid: CLICK HERE


JUNE with Jordan Rizzlekick: CLICK HERE


JULY with Marvin Humes: CLICK HERE


AUGUST with Will Young: CLICK HERE


SEPTEMBER with Yasmin: CLICK HERE


OCTOBER with Joe McElderry: CLICK HERE


NOVEMBER with Patrick Wolf: CLICK HERE


DECEMBER with Aino Icona Pop: CLICK HERE