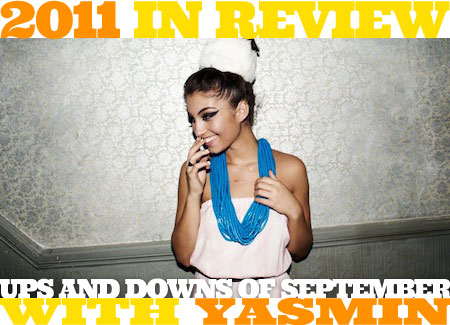 Yasmin released her second single, the not exactly awful 'Finish Line', in May, but we decided to grill her on September. The element of surprise, readers. The element of surprise.
In September, PJ Harvey won her second Mercury Music Prize for the album 'Let England Shake'.

Should the Mercury be focusing on newer artists rather than going for people who've already won it?
I think the Mercury Music Prize should be for new artists. There's just so much turnover in music. The Mercury Music Prize for me always feels like it should be for an exciting new act from a fresh genre.
How would you define a new artist? First album? Singing for less than a decade?
I think a new artist is someone with their debut album.
You could have new artist in inverted commas, so it's sort of new but not that new?
(Laughs) Sort of new but not that new? It keeps your options open. We could call Adele new because she's only done two albums. She's sold a lot of them, but she's still new.
She doesn't really need to be winning any more awards, does she?
She's had her share of awards and record sales. I think she should just let the rest of us have a go.
Do you think if she'd sold fewer albums this year you would have sold more?
Well, not neces­sar­ily, but I just want to know who still doesn't have the album? Who is still buying it? It baffles me. I mean it's amazing. But still.
Over 5,000 people were infected, during September, by an outbreak of dengue fever in Pakistan.
Have you ever been stricken with 'night fever, night fever'?
All the time. Usually once a week, espe­cially on the weekend. It usually occurs on a Friday or Saturday night around 2am.
Also in September, people were still tidying up after the riots.
Did you tidy anything in September?
Erm, I tidied up my bedroom.
How big is your bedroom?
I would say it's a reas­on­able size. It's got quite a big bed – I don't know if it's a king or a queen, I'm not sure of the dif­fer­ence, but it's bigger than a double. I have a chest of drawers, two bedside tables and quite a large fitted wardrobe. And an en suite. I have a lot of clothes. It is quite a big chore to clean it up.
What's under your bed?
Probably just stuff. The bedframe is quite low, so you can't fit a lot under there. It will just be forgotten socks and shit, or hangers. No humans.
Some of the legendary Dead Sea Scrolls were published online in a joint project between Israel's national museum and Google, which was nice.
Would you like to be buried at sea, or would you rather have your ashes scattered in a place that's dear to your heart?
I don't think I'd want to be buried at sea. I don't know, when I think about that I think about Pirates of the Caribbean and I didn't really like that film. I think I'd want to be frozen and kept alive. I heard a rumour that's what they did with Michael Jackson, that they're going to freeze him and bring him back in 200 years.
Well, if they haven't done it by now I would suggest they get on with it because he's going to be quite ripe by this point.
No, I think that's what they did.
Instead of being frozen, is there any other Madonna song you'd like done to you after death?
Erm, there's too many…
Would you like them to open your heart?
Maybe…
Would you like them to 'dress you up' for your funeral?
Dress me up? Yeah. I don't know, maybe I could just be in an egg like Gaga, that was quite cool.
Google + was launched to great fanfare in September.
Did you care?
What's Google +?
As of September, citizens in Australia are now allowed to mark either M, F or X in the gender box on their passports.
What would you do if you were a boy, even just for a day?
I'd roll out of bed in the morning, put on what I wanted and go.
Amazing. Did you watch her TV special?
I did. It was a night to remember. I think she's amazing. No one can really sing like her or dance like her and I'm fas­cin­ated by her hair. It's incred­ible. She has about six indus­trial wind machines on her at any given time and it's just there, it never flies off. And great boobs, great boobs.
Have you had any wind machine action yourself or does that come with a certain level of record sales?
Yeah, once you sell a few records you get certain things. Smoke machines first and then wind machines. Once you go gold you get smoke machines, so I've got a while to go yet.
You could get a child's push chair and some battery-operated fans and instead of having a baby in it you could have all the fans just pointing at you as you push it around so and you'd be in a constant state of being in a wind machine. That could be quite good. Or it might look a bit odd.
Ever see those people in London pushing around prams and there are no kids inside?
It's not a good look.
I always just think, where's the child?
Unfunny comedian David Walliams completed a 140-mile swim along the River Thames, during which he battled 'Thames Tummy' and rescued a dog.
Would you dive into a river to save a drowning animal?
Er, which river? The Thames?
Yes, let's say the Thames.
If it was a rat I probably wouldn't, but if it was a puppy or a kitten I probably would.
So you consider the life of a puppy or a kitten to be more important than that of a rat?
I would say so.
Do you have a chart somewhere of animals you'd let drown? What's the cut off point? A stoat? Anything above a stoat gets saved, everything else drowns?
I guess if it was a pigeon and it was right in the middle of the Thames… You know what, if a pigeon is drowning that's it's own fault because it could have just flown away. And a rat shouldn't have been anywhere near the Thames. I think it depends. If it's the animal's own fault then it won't be saved, but if it's cute then I might save it.
Quantas flights through­out Australia were disrupted by a four-hour strike, ruining the travel plans of many Antipodean fliers.
Should striking be tolerated?
Erm. I mean, I don't know, I would love to see the facts and figures to see if striking actually works. To see if they get the pay rise or the pension or whatever it is they're striking for. If they don't, then they're just trying to get a day off work. If they do end up getting the pay rise or the pension plan then I'm all for that.
Do you think Jeremy Clarkson should be taken outside and shot in front of his family?
No, I don't. The media training has paid off hasn't it. You don't want to kill anyone in front of their families.
Heather Shanholtz won Best Swimwear Model of 2011 at the Women in the Arts Awards in Miami.
Are you of the one-piece, or more racy two-piece school of thought?
I mean, I think it all depends. If you want maximum tan exposure then it's always the two-piece, but if it's some kind of event where everyone has to wear swimwear then I'd go for the one-piece.
And finally, there's mass shooting at an International House of Pancakes res­taur­ant in Carson City, Nevada leaving four dead.
Has fast food ever driven you to madness?
Has food ever driven me to madness? That's not very funny though. It's not a joke. Do we really have to end the interview on that one?
How about this: Iran beat China 3–1 to win the 2011 Asian Men's Volleyball Championship.
When playing vol­ley­ball, what is your spiking technique like?
Well, first of all I'm half Iranian so that's a very appro­pri­ate question and I'm obviously very proud of my country. I'm good at the 'dig'. My spiking technique would just be to jump really high and hit it really hard at someone on the other team because if it hits their body you get the point.
That's quite aggress­ive. Do you have any jokes?
I've got a good joke. Why did the Mexican go to the hardware store during winter?
I don't know.
Fajitas! (Laughs)
*


JANUARY with Little Boots: CLICK HERE


FEBRUARY with Eric Saade: CLICK HERE


MARCH with Mark Feehily: CLICK HERE


APRIL with Cher Lloyd: CLICK HERE


MAY with CocknBullKid: CLICK HERE


JUNE with Jordan Rizzlekick: CLICK HERE


JULY with Marvin Humes: CLICK HERE


AUGUST with Will Young: CLICK HERE


SEPTEMBER with Yasmin: CLICK HERE


OCTOBER with Joe McElderry: CLICK HERE


NOVEMBER with Patrick Wolf: CLICK HERE


DECEMBER with Aino Icona Pop: CLICK HERE