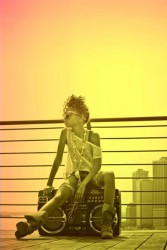 Singing Child Willow Smith performed in Barack Obama's back garden to over 30,000 people at this weekend's annual Easter Egg Roll event.
(Nothing about that paragraph isn't amazing).
Smith — cheered on by her parents — performed 'Whip My Hair' and her new single (what has happened to it by the way?) '21st Century Girl', as Barack watched from the side of the stage.
The event ended with 14,500 hard-boiled eggs being rolled across the South Lawn at the White House.