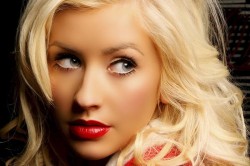 Christina Aguilera took advantage of her interview time on Ellen yesterday to clear up what actually happened to her when she fluffed the National Anthem lyrics at the Superbowl earlier this year.
"That night I knew, I just made myself a Trivial Pursuit question," the 'Express' singer mused. "'In 2011 what female singer, ya know, flubbed the lyrics.' It's just insane. But I have a really good laugh about it and you get over things. You get back up again and you just prove to yourself and to everyone you that much stronger."
Christina is currently a 'coach' on The Voice, a new TV singing contest which premiered earlier this week.
Along with her fellow 'coaches' Cee-Lo Green and Adam Levine, she sits with her back to the con­test­ants and buzzes if she likes the sound of their voice.