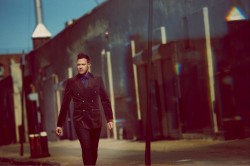 The Sun are sug­gest­ing that Will Young is about to sign up as a mentor on The Voice.
The singing com­pet­i­tion — which will focus on the voice (obviously) more than whether someone looks nice in a River Island chunky knit cardigan or some bacofoil mon­stros­ity — will air next year on the BBC and will be presented by the charisma vacuum that is Holly Willoughby and Reggie Yates.
The only mentor to be offi­cially announced so far is Jessie J, with The Sun claiming that will.i.am and Tom Jones have recently signed contracts.
Young, appar­ently, is still to sign and if he doesn't the role will be filled by Ricky Wilson from the Kaiser Chiefs (!).