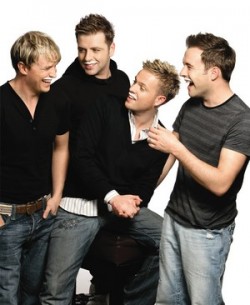 STOP ALL THE CLOCKS: After 13 long, long years, ten studio albums, one Greatest Hits com­pil­a­tion (so far) and a lost member, stool-bothering manband Westlife have parted company with Simon Cowell.
Fear not, they're not giving up on music and have already 'inked a new deal' with Sony RCA.
Their manager and Simon's cherub-faced X Factor foil, Louis Walsh, is quoted by The Sun as saying "the move is a natural pro­gres­sion. There was no bad feeling."
As is the way with these things in 2011, members of the band took to Twitter to add their sixpence. Nicky tweeted, inter­est­ingly, "it is time for a change" while Mark added, somewhat disin­genu­ously, "we are still very young & have lots of energy left".