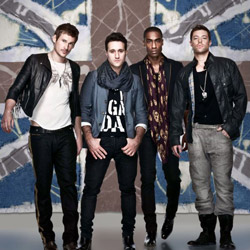 UK Sport, the Government body in charge of PE, are in the news today.

With the 2012 Olympics approach­ing, the organ­isa­tion is thinking about 'Team GB', and is setting medal targets. The target UK Sport have set is actually very vague — they just want more than 47 medals, which is the number 'Team GB' managed in the last Olympics, across a broader range of sports.

Perhaps someone in the Government — Jeremy Hunt will do unless someone else wants to step in — should take a similar interest in Eurovision. In the absence of any such interest from Jeremy, Popjustice would like to set 'Team UK' — that's Blue — the target of Not Being Responsible For A Complete And Utter Shower Of Shit.

To be honest, things are not going very well so far.

This (a pointless load of dated old drivel by Blue) is the song 'we' are sending to Eurovision.

[youtube]y54uuEcMYj0[/youtube] Meanwhile this (today's Song Of The Day — 'Popular' by Eric Saade) is the song Sweden decided over the weekend that they would be sending to Eurovision. [youtube]Nfx0OMM2u0A[/youtube] Oh dear.

Anyway, our Bluerovision challenge stands. Come on boys, Don't Be Responsible For A Complete And Utter Shower Of Shit. We know you can do it!!!