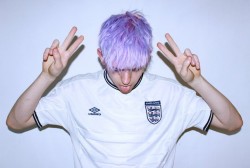 Unicorn Kid's been talking a bit about his new album to Attitude magazine.
In fact, for fans of specifics, this is what he's been saying: "[The album is] pop music, but it spans a lot of genres and it's 80% vocals".
Good to know.
He then added: "If you look at the state of UK pop, you've got drum 'n' bass, dubstep, house and dance. It's got the same kind of com­pu­ter­ised sound to it."
So true Unicorn, so true.